No. 16
Oceanic Scales
By : gfelice
Entrant's location : United States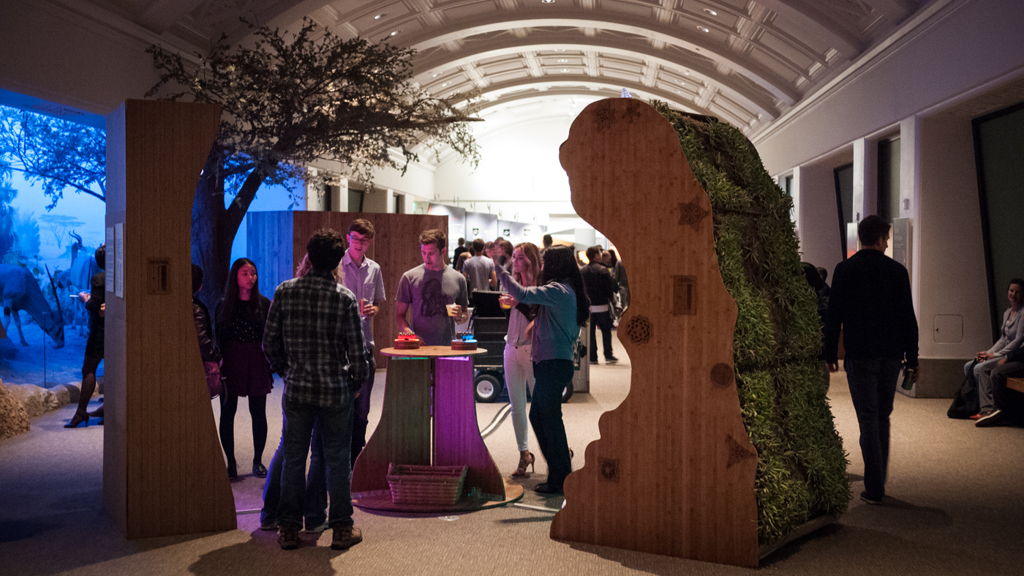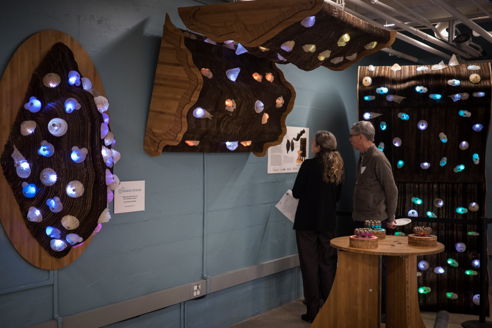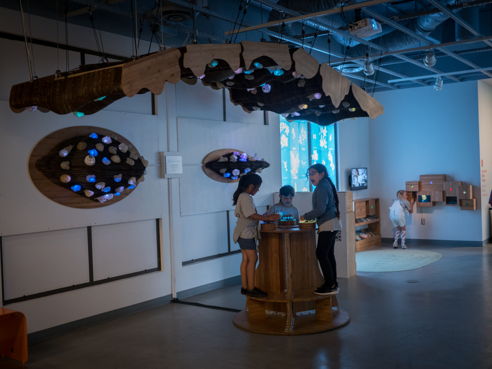 LINKS
Oceanic Scales explores the visualization and contextualization of ocean sensor data into a creative digital output, streamed from the MBARI Elkhorn Slough sensor array API located in the Monterey bay on the California central coast. This exhibit gives visitors the ability to experience the work either passively or actively. They can absorb its multi-sensory interpretation of ocean data as complex patterns of light and sound, or they can decide to become an active agent of change, trying out various trial and error scenarios by adjusting temperature, PH and nitrogen levels within the automated gaming system. Instability may lead to a system crash; harmony and grace can be achieved through perceived stability, patience and new understanding. The physical structure is ecologically minded, built with local bamboo plywood and pine resin, corn plastic 3D printed forms, recycled cardboard, natural latex rubber, solar power and a living component of native plant species.
Why did you make it?
Make the Invisible Visible. You can help us build a more informed FUTURE TOGETHER as Climate Change, Healthy Oceans & Waterways, and Sustainability become some of the most pressing issues of our time. The University of Maine in collaboration with the University of California Santa Cruz have created an innovative Art & Science multimedia exhibit / puzzle to educate and engage our communities across the country. This timely and unique mobile system is called Oceanic Scales. Visitors to Oceanic Scales will explore their role in maintaining a stable aquatic ecology through a multi-sensory, interactive art and science puzzle inspired by the microorganisms found in all water. The hope is to encourage change toward sustainable living practices by engaging the public to reflect on and perhaps better understand how humans impact the environment at local and global scales.
An interdisciplinary team of faculty and students from Digital Arts & New Media, Film & Digital Media, Marine Biology, Ecology, Computer Science and Engineering at UCSC came together to make this idea possible. Gene Felice, Jennifer Parker and the Openlab research group (https://openlabresearch.com/) and the Coaction Lab have given their creativity, time and effort to see this project through to completion. Students received access to equipment, experience, training and new inspiration as well as greater understanding of the natural systems that we have a responsibility to maintain.
Your entry's specification
Oceanic Scales was built with modularity in mind. We have created a hybrid project, part science exhibit part art installation. It can be installed in a variety of locations at a variety of physical scales. The following examples demonstrate the four different scales of the project: A Virtual Touch Screen Configuration: Downloadable / customizable / portable option for spaces that don't have room for the partial or full installation but have touchscreen capability. Partial Scale freestanding or wall & ceiling mounted with variable outcropping set up for a variety of installation options, indoor or outdoor (solar power option) Full Scale: Three balanced, freestanding Outcroppings indoor or outdoor (solar power option) Mobile App System: virtual game version supports the main installation as a virtual info tool as well as including: educational game variations of the project, downloadable curriculum plans for elementary school teachers & an augmented reality info system that serves as a key to the interactive, Oceanic Scales puzzle
CLOSE