No. 27
KOGA HEATER
By : Kiichi
Entrant's location : 日本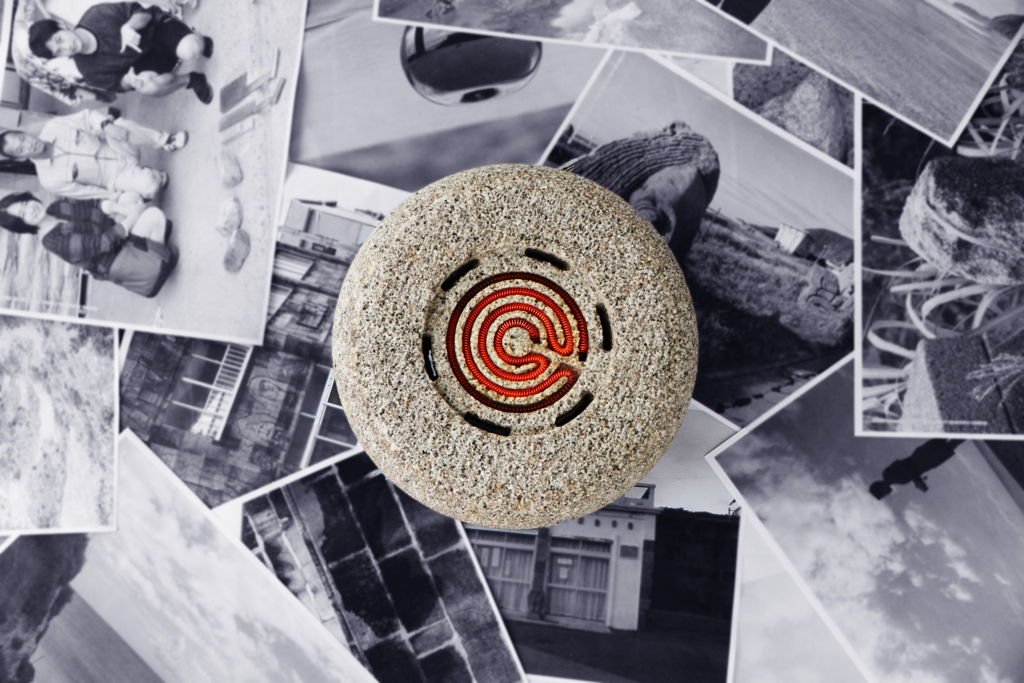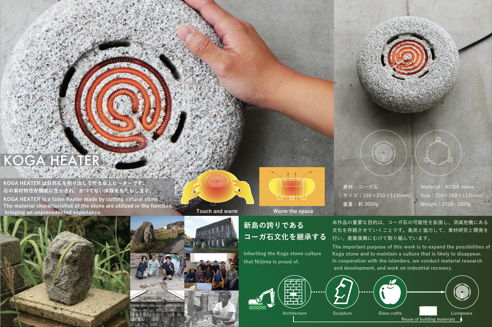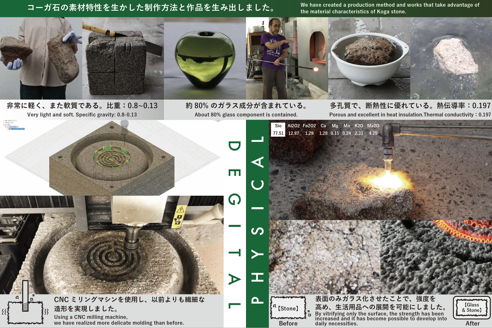 LINKS
KOGA HEATERは、世界で東京・新島でのみ採掘可能な溶岩石「コーガ石」を削り出して作られた、卓上ヒーターです。古風にも未来的にも見える外観に加え、素材特性を生かした機能構造は、かつてない体験をもたらします。また、斬新な製品開発の先にあるのは、素材の可能性を拡張し、世界で唯一無二のコーガ石文化の継承に繋げることです。石を自らの誇りと謳う島民と協力し、今日も活動に取り組んでいます。 制作年:2017年4月プロジェクト開始、2019年10月最新モデル制作 素材:コーガ石(抗火石)、ニクロム線、内部機構(既製品にも使用される一般的で安全なもの) サイズ:250×250×113(mm) 重量:約2700~3000(g) ツール:3DCADソフト、CNCミリングマシン
KOGA HEATER is a completely new desktop heater made by cutting natural stone. The old-fashioned and futuristic appearance brings an unprecedented experience. The material used is "Koga stone (anti-fire stone)" that is mined only in Tokyo and Niijima in the world. Koga stone is a stone with unique characteristics, and its characteristics are utilized in the functional structure of the product, which indicates that it is porous and has excellent heat insulation performance. This not only warms the space, but the entire product becomes slightly warmer when in use, giving you a magical experience of directly touching natural stones and warming your hands, reminiscent of an unknown relationship between people and nature. The Far-infrared effect is also expected. The specific gravity of Koga stone is 0.8, which is very light among the stones, so it is not difficult for elderly people and women to carry around. Distribution is not a problem. You may want to warm the kettle or burn the firewood. However, the true purpose of this work is not only to develop innovative products, but also to challenge certain social issues. (Described later)
Why did you make it?
An important purpose of this work is to inherit the Koga stone culture that is in danger of extinction, triggered by development. Koga stone is a valuable material that Japan should be proud of in the world. In Niijima, stone architecture and sculptures have created a rich culture. However, in recent years, the industry has been declining due to demolition of aging buildings and a drop in demand for sculpture. While infrastructure and tourism are prioritized, culture is disappearing without anyone knowing. This is the same as losing the pride of the island. KOGA HEATER was created with the aim of expanding the possibilities of Koga stone for these social issues. In addition to reducing costs by using discarded or neglected building materials, you can create a new culture as a household item while retaining the historical context. In addition, the idea of ​​developing a heater that creates a new landscape in winter when tourism is scarce and the idea of ​​the processing method described below are born through discussions with the islanders, and can be said to be citizen-driven. Today, we are working to sustain the culture and industrial recovery.
The production makes full use of the material characteristics. (1) Digital: Create a model with 3D CAD software and cut it out with a CNC milling machine. Koga stone is a very soft rhyolite. Up until now, it has been the mainstream to cut out by hand, and the thinnest was 10mm. However, this time, repeated trial and error, and by finding an appropriate setting for the CNC milling machine, we were able to cut to 4.5mm. As a result, delicate modeling was realized. (2) Physical: A natural coating that bakes stones at a high temperature and vitrifies the surface. Being soft is also a weakness. When touched, the surface collapses and cannot be brought into the home. Resin coating also increases waste. Therefore, using the fact that 80% of the ingredients are vitreous (oxalic acid), and baking it with a burner, only the surface was vitrified. While leaving the texture, the surface is smooth and strong. This is the invention of a unique coating method that made it possible for the first time in history to develop Koga stone into daily necessities. ⑶Combine parts
Your entry's specification
Materials: Koga stone (anti-fluorite), nichrome wire, internal mechanism (general and safe used for off-the-shelf products) Size: 250 x 250 x 113 (mm) (This is the size required to give a presence to a general household table. It is round and easy to touch the product while sitting on the table.) Weight: about 2700 ~ 3000 (g) (Same weight as a general rice cooker, can be easily carried and installed) Tools: 3D CAD software, CNC milling machine It is possible to lighten or adjust the size by repeated improvements.
CLOSE