No. 49
ΑΝΥΠΑΚΟΗ / DISOBEDIENCE by Studio INI
By : studioini
Entrant's location : London, UK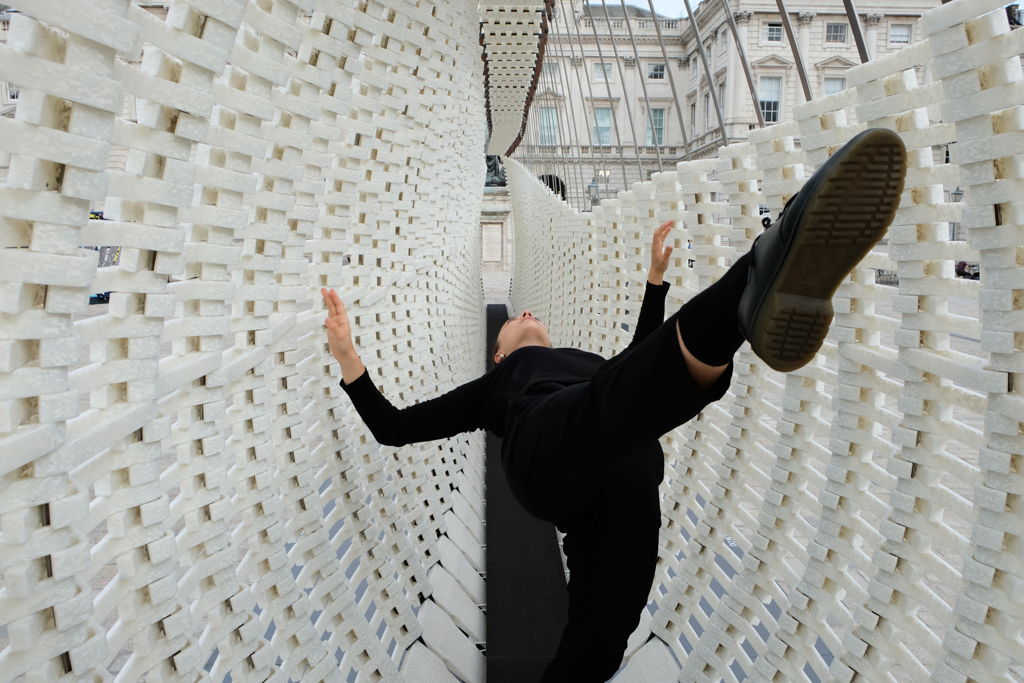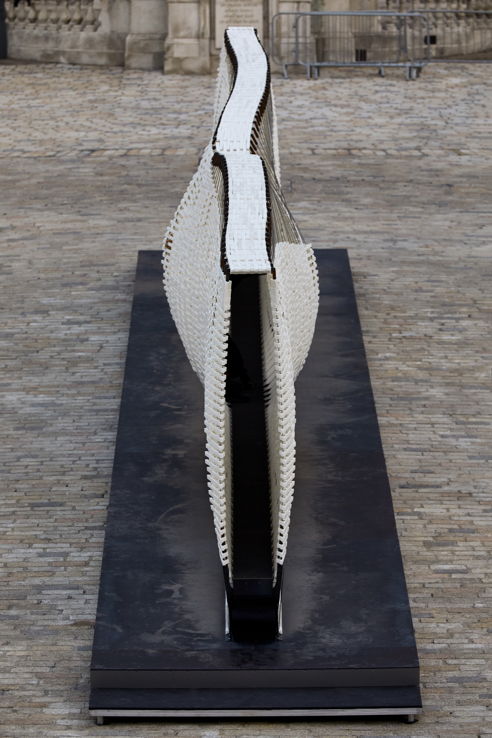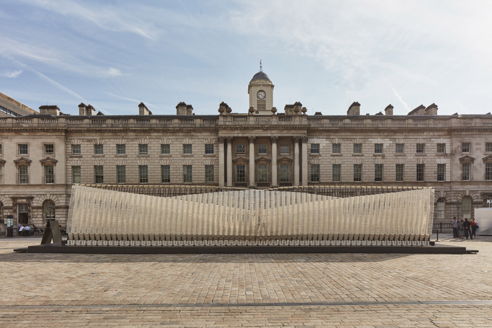 LINKS
Disobedience was a kinetic installation that is a manifestation of Studio INI's ongoing research in Augmented Materiality. Disobedience was first exhibited as the Pavilion for Greece ( the home country of Nassia Inglessis founder of Studio INI) in London Design Biennale 2018 at Somerset House, London, UK. The installation then toured beyond Europe in diverse cultural locations across Asia. The design engineers at Studio INI (London / Athens) led by Nassia Inglessis couple rigorous design research with public engagement to create experiential installations. Disobedience, is a 17m long kinetic wall that challenges our perception of architecture as something static, or emotionally inert. Disobedience is an integral part of human behaviour dating back to ancient cultures. As in ancient Greek mythology it is prevalent throughout the cautionary tale of Icarus, to Antigone, to Prometheus, who disobeys the gods to obeys his moral obligation to humanity and creates opportunity for its progress. Disobedience also remains a potent theme for Greece at a time when the country is in the process of reinventing itself. The question is, how can we both invite disobedience and harness its constructive form? For as long as there have been rules, there has been disobedience. Scientists discover by disobeying the assumptions of predecessors, children learn by disobeying the boundaries of parents, designers create by disobeying the norm. A 'living' sculpture; a 17 metre-long kinetic wall made from a steel spring skeleton and an innovative 'weave' of recycled plastic. The visitors are confronted with an innocuous wall, yet as they step inside, its dynamic skin flexes and morphs in response to their movements; they have transgressed a boundary, transitioning from obedient spectators to disobedient actors. Nassia seeks to evoke disobedience's creative expression. She invites visitors to feel empowered as they break reality outside of the computer screen and re-construct their physical space. How often can one shift tonnes of metal by their physical presence? How often can one dissolve a wall to create new space? The transformation and undulation of the wall is experienced through a direct dialogue of body and space. The structure, becomes a physical megaphone of their motion and emotion. Emotions such as curiosity, ambivalence, frustration, temptation, excitement and wonder are amplified, as visitors experience the feeling of passing in between a boundary and uniquely impacting its shape. A Performance was produced by Farooq Chaudhry, creative producer and founder of Akram Khan Company choreographed and performed by world-renowned dancer Dickson Mbi.
An outdoor, interactive and kinetic installation that resembles a wall. The installation is made of steel spring and computationally designed HDPE, recycled plastic. The visitors are invited to walk through the wall, while it flexes and undulates around them, allowing them to create space where there cannot be created, traditionally.
Why did you make it?
The installation was initially created as the Greek Pavilion for London Design Biennale 2018 in Somerset House. The project was part of the ongoing research of the studio in Augmented Materiality that explores on how to use technology not as an end in itself but as means to bring matter and the built environment closer to human perception and interaction. The installation disobeys the idea that architecture and our built designed environment as static of emotionally inert. The archetype of the wall as a stark and rigid structure and boundary is challenged. It is allowed to flex open in response to human intent creating space where it is least expected. Disobedience created a wall that allows for a seamless physical interaction between body as space exploring architecture as a permeable boundary between nature, human and the physical world she or he creates.
Combining computational design, digital fabrication, research/traditional craft in metallurgy and recycled plastic (HDPE) we embed structural logic to craft traditional and innovative matter with new dynamic behaviour and capacity for interaction at architectural scale. Through computational design and digital fabrication (CNC routing) we optimised the geometry of the plastic to minimise weight and retain the visual aspect of a flat wall. The combination of two types of HDPE created the illusion of marble - something heavy and rigid, in contrast to the light nature of the material that surprised as it dynamically undulated in response to human movement as a physical megaphone / amplifier to the human body. The plastic works as horizontal linkages which connect each of the ribs of the spring steel skeleton to the other. In that way it propagates the transformation on the ribs, to mimic its movement in the overall skin that construct the wall. That transformation is an amplified reflection of the movement of the visitors inside the wall. A seamless interaction translates vertical displacement from the visitor through a laser cut linkage system into an amplified horizontal displacement that empowers the visitor to transverse through a wall creating space and directly transforming the structure.
Your entry's specification
The installation is of architectural scale. It is 17m long and 3.5m tall. Made of digitally and manually fabricated spring steel and HDPE, recycled plastic.
CLOSE