No. 59
MUE
By : systemdesignstudio
Entrant's location : SPAIN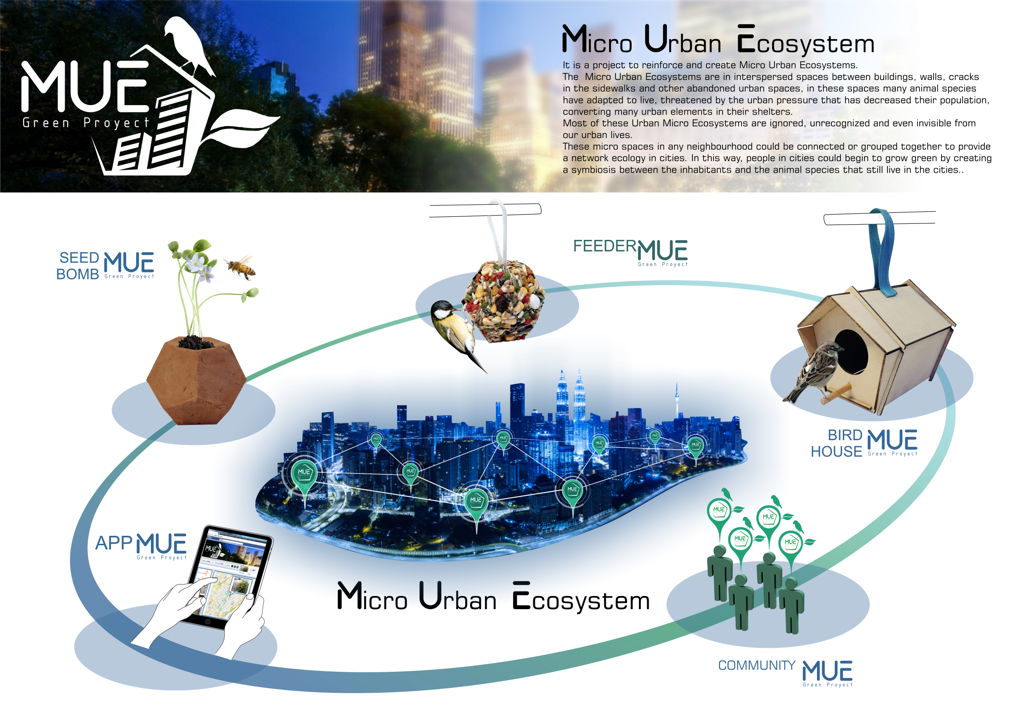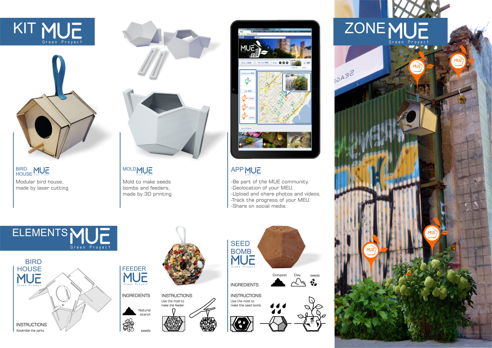 CONCEPT: It is a project to reinforce and create Micro Urban Ecosystems. The Micro Urban Ecosystems are in interspersed spaces between buildings, walls, cracks in the sidewalks and other abandoned urban spaces, in these spaces many animal species have adapted to live, threatened by the urban pressure that has decreased their population, converting many urban elements in their shelters. Most of these Urban Micro Ecosystems are ignored, unrecognized and even invisible from our urban lives. These micro spaces in any neighbourhood could be connected or grouped together to provide a network ecology in cities. In this way, people in cities could begin to grow green by creating a symbiosis between the inhabitants and the animal species that still live in the cities. YEAR: 2019
It is a project to reinforce and create Micro Urban Ecosystems. The Micro Urban Ecosystems are in interspersed spaces between buildings, walls, cracks in the sidewalks and other abandoned urban spaces, in these spaces many animal species have adapted to live, threatened by the urban pressure that has decreased their population, converting many urban elements in their shelters. The MUE kit consists of three tools: Mold MUE: With it we can make the bird feeders. It is also used to make the seed bombs, using the "NENDO DANGO" technique. Bird house MUE: Designed for small birds that nest in tree hollows, APP MUE: MUE intends to become a social movement, relying on social networks and the MUE platform, which would be implemented as an APP, in which each person who gets a MUE kit will be part of the Community MUE, placing it in the city plan. Keeping track of your MUE, through photographs and comments, describing the growth of the plants, the use of the nest and the status of the feeders, this information can also be shared among the other members, giving the location of the MUEs of your street or neighbourhood.
Why did you make it?
Most of these Urban Micro Ecosystems are ignored, unrecognized and even invisible from our urban lives. These spaces remain underutilized but are a characteristic of our urban infrastructure. These micro spaces could provide new bases for ecosystems to be established, for urban dwellers to socialize and contribute to the well-being and resistance of the community to the many dynamic changes that affect the socio-ecological aspects of our urban lives. With this project we can create urban network ecology, create corridors between fragmented green patches in very heterogeneous landscapes. This project would allow urban parks, wild spaces and small green patches to be linked through green roads or any infrastructure that could provide species with a greater ability to move and migrate These micro spaces in any neighbourhood could be connected or grouped together to provide a network ecology in cities. In this way, people in cities could begin to grow green by creating a symbiosis between the inhabitants and the animal species that still live in the cities Finally MUE will become a source of information, and monitoring the biodiversity of the city generated by its own inhabitants.
For the manufacturing of the physical elements of this project, digital manufacturing techniques have been used, the MUE mold is manufactured by 3D printing and the Birdhouse by laser or CNC cutting.
Your entry's specification
Phisical Elements: -MoldMUE: 3D printed piece Material: ABS Dimensions: 11cmx 12cm x 9cm Weight: 75g -Birdhouse MUE: Parts cut in Laser or CNC Material: Plywood Dimensions: 22cm x19cm x16cm Weight: 250g
CLOSE