No. 113
Powerplant
By : jewelle
Entrant's location : Portugal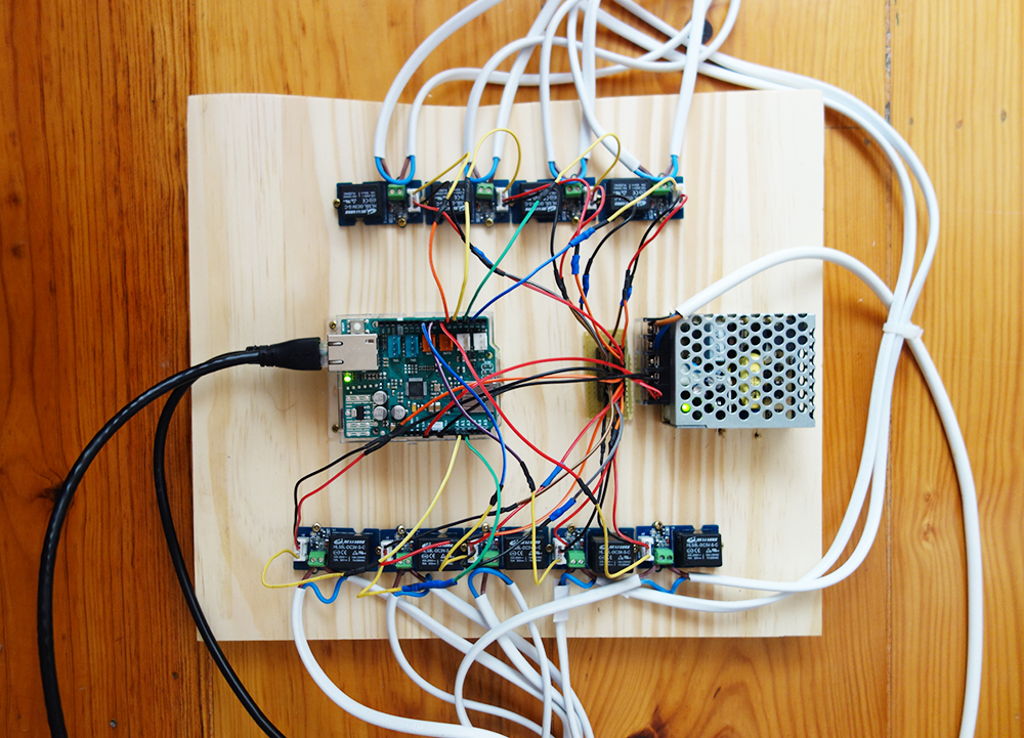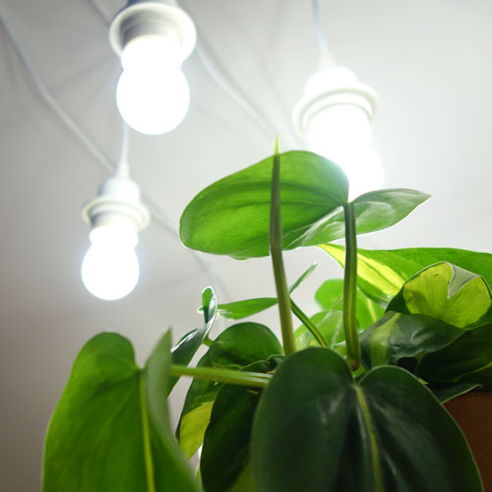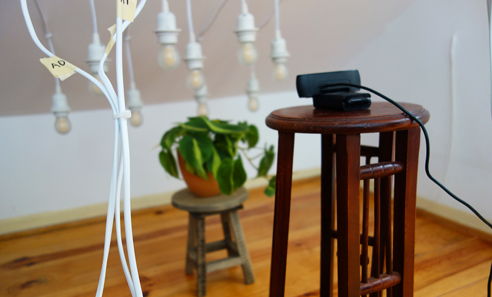 LINKS
"Powerplant" invites people from around the globe to view the energy they consume while using the Internet. The project consists of a website livestreaming a real-world installation in which a plant in a dark corner is surrounded by lightbulbs. Each set of three lights above the plant visualizes the power consumed by one visitor to the site as they stream the video. Visitors can watch the lights over the plant turn on and off in real time as others join and leave the website. I conceived of and created the entire project independently; I built the website using PHP and Ajax and built the hardware using an Ethernet-enabled Arduino and a relay system. The project explores the invisible infrastructure that crosses continents and oceans to serve the Internet. This complex, massive apparatus provokes awe at humans' ability to coordinate and maintain such a vast global structure and at its invisible nature that keeps it out of mind and allows us to forget the consumption and waste it necessitates. Over the first iteration of the project, the plant grew and developed a new leaf. The second iteration will be hosted in December as part of The Wrong Biennale. www.ericajewell.com/powerplant/
"Powerplant" invites people from around the globe to view the energy they consume while using the Internet. Powerplant consists of a website livestreaming a real-world installation in which a plant in a dark corner is surrounded by lightbulbs. Each set of three lights above the plant visualizes the power consumed by one visitor to the site as they stream the video. Visitors can watch the lights over the plant turn on and off in real time as others join and leave the website. Over the first iteration of the project, the plant grew and developed a new leaf. The second iteration will be hosted in December as part of The Wrong Biennale.
Why did you make it?
I wanted to make the invisible infrastructure that crosses continents and oceans to serve the Internet visible or tangible. This complex, massive apparatus provokes awe at humans' ability to coordinate and maintain such a vast global structure and at its invisible nature that keeps it out of mind and allows us to forget the consumption and waste it necessitates. I used the image of a lightbulb as a representation of energy usage and the growth of a plant as an indicator of energy consumed over time because these symbols bring this intangible part of the everyday, our digital lives, into a conceivable realm, and connect what we conceive of as the digital/fake/unnatural with the physical/real/natural world. After all, while the process is somewhat abstracted, the energy that allows me to watch a video online is a real, physical thing resulting from natural processes.
I conceived of and created the entire project independently; I built an installation in my studio in Lisbon consisting of nine lights surrounding a plant in a dark corner. As calculations I found in a paper from the Journal of Industrial Ecology indicated that a video streamed at 720p consumes 90 watts, three 30 Watt bulbs are illuminated above the plant to represent each visitor to the site. I built an interactive website from scratch using PHP and Ajax to detect when a new visitor joins the site. This updates a file hosted on the site that is constantly read by an Ethernet-enabled Arduino in the physical installation. When a visitor enters the site, the Arduino triggers three relays to illuminate three random lights over the plant. A video of the installation is constantly live-streamed on the site.
Your entry's specification
The project is hosted online and consists of nine 30-watt light bulbs and nine relays, an Arduino, a plant, and a webcam. The livestream is conducted using Open Broadcaster Software on a PC.
CLOSE