No. 118
Jungle of Nusa
By : Suzy Sulaiman
Entrant's location : Malaysia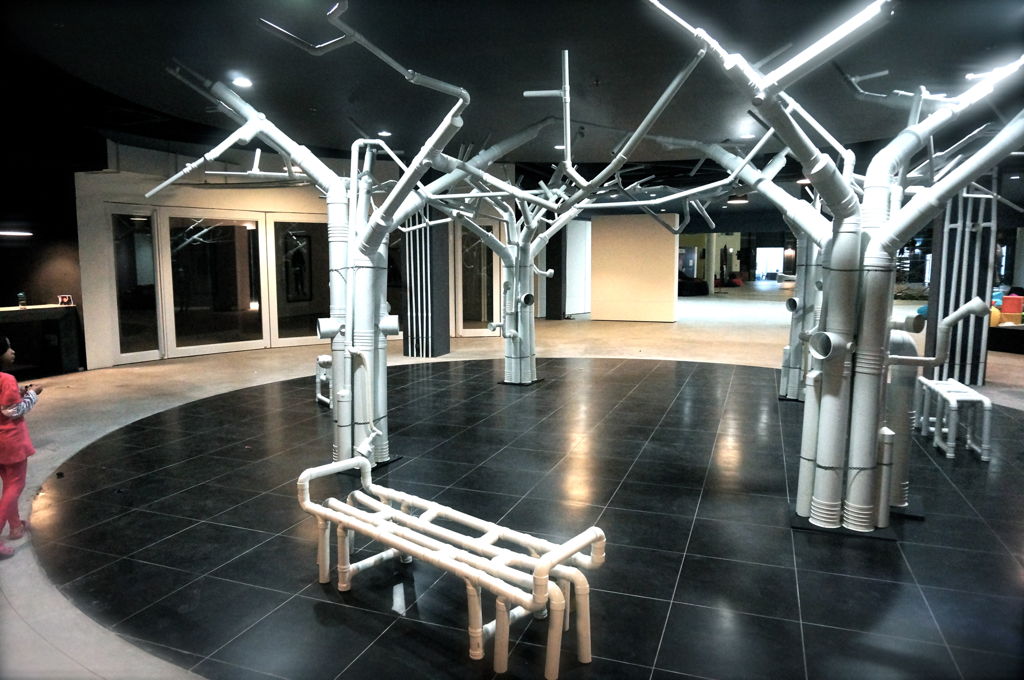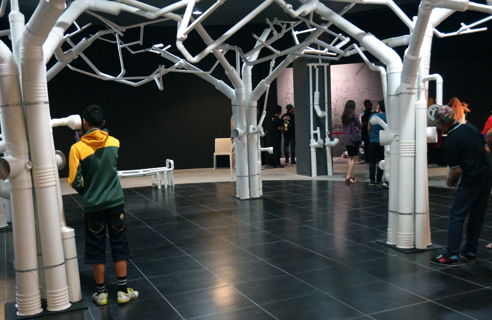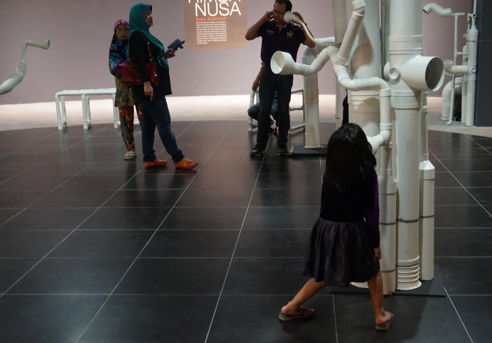 LINKS
My intention is to create the sensation of being under a forest canopy. It attempts to re create a man-made forest from man-made materials. Inspired by the surrounding massive construction "development" Johor is going through, this work uses building materials to mimic a forest. The contrast between using industrial materials like UPVC pipes yet it casts shadows that we associate with trees, branches and nature. The artwork also emits a soundscape that mimics nature and invites visitors to interact with its sound-making.
It is an interactive sound installation that requires collective participation. Also, there's the element of self-discovery because there's no instructions on how to "use" it. I wanted people to "talk" to each other in an analogue way, instead of only "talking" on their handphones. I wanted the sound of people's voices to connect other people. By speaking into the installation, a person will discover that their voice will travel to other parts of the artwork. There is also a component, where by using a guitar pedal, a person's voice can be distorted. This is a way for me to give ownership to the people who will "take care" of this work.
Why did you make it?
There were many families in that mall, but there were not many activities families could do together. Most of the times, I see them interacting with their cellphones. I wanted my artwork to encourage people to come together and physically interact with each other. Like playing hide-and-seek in a rainforest, I wanted kids and adults to play with each other by rediscovering the sounds of their voice (analogue & distorted) in a joyful manner, creating a meaningful family experience.
I was inspired by Yuri Suzuki's "Acoustic Pavilion" because of its simplicity of assembly and collective participatory. UPVC pipes were my main material because of its easy assembly and availability. But it's non-structural, so various experiments were made to strengthen that material. There is one mic & a repurposed guitar pedal used to distort a person's voice. The simple. almost intuitive assembly allows for anyone to build or rebuild it. I wanted visitors to take this idea and build for themselves. For this one, I had fun building it with my family and friends.
Your entry's specification
3-3.5 meters height. 4 meters wide. 5 meters length.
CLOSE