No. 136
SOMEONE
By : lauren mccarthy
Entrant's location : United States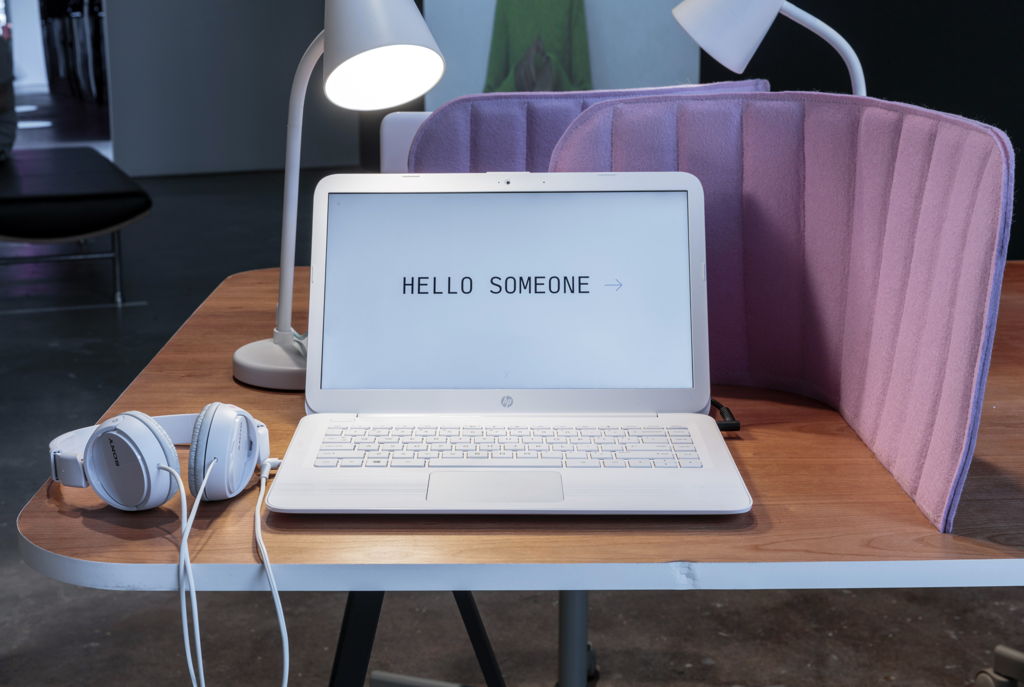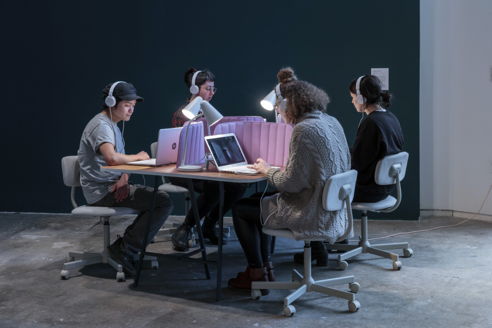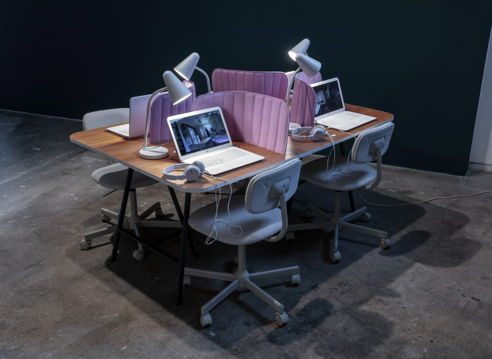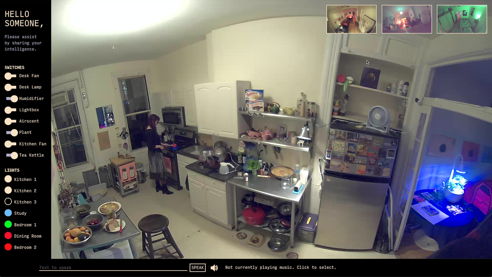 LINKS
SOMEONE imagines a human version of Amazon Alexa, a smart home intelligence for people in their own homes. For a two month period in 2019, four participants' homes around the United States were installed with custom-designed smart devices, including cameras, microphones, lights, and other appliances. 205 Hudson Gallery in NYC housed a command center where visitors could peek into the four homes via laptops, watch over them, and remotely control their networked devices. Visitors would hear smart home occupants call out for "Someone"—prompting the visitors to step in as their home automation assistant and respond to their needs. This video installation presents documentation from the initial performance on four screens throughout the space. http://lauren-mccarthy.com/SOMEONE
SOMEONE imagines a human version of Amazon Alexa, a smart home intelligence for people in their own homes. For a two month period in 2019, four participants' homes around the United States were installed with custom-designed smart devices, including cameras, microphones, lights, and other appliances. 205 Hudson Gallery in NYC housed a command center where visitors could peek into the four homes via laptops, watch over them, and remotely control their networked devices. Visitors would hear smart home occupants call out for "Someone"—prompting the visitors to step in as their home automation assistant and respond to their needs. This video installation presents documentation from the initial performance on four screens throughout the space.
Why did you make it?
Substituting humans for AI recontextualizes the role of virtual assistants. Inhabitants call out for "SOMEONE", invoking visitors as intelligence, complicating the dynamic between audience and performer. Installed simultaneously in multiple homes across the country, we're challenged to consider the scale of the work, and the even more expansive, networked systems that structure society.
The devices were based on research into existing smart home and IoT devices, while exploring more human and imaginative forms and functionalities they may take on. The custom device objects incorporate cameras, microphones, sensors, and other appliances, and address the needs of the inhabitants by functioning as smart switches, lights, locks, environment adjusters, small appliances, and more surreal mechanisms of control. Custom software, which I built with node.js, runs on a Raspberry Pi computer that serves as the central hub for the system, connecting all the devices and enabling them to be interactive and remotely controlled. The command center in the gallery consists of a custom designed table and privacy dividers, set of four chairs and desk lamps, and four laptop computers with custom interface.
Your entry's specification
This piece can be exhibited as a video installation documenting the original performance. The installation consists of a custom designed table and privacy dividers, set of four chairs and desk lamps, and four laptop computers with custom interface displaying footage from the performance on loop (run time 1 hour). Table dimensions are approximately 4x6'. More images from this setup can be seen here: http://lauren-mccarthy.com/SOMEONE
CLOSE