No. 154
Triptych (2019)
By : yasminjaidin
Entrant's location : Brunei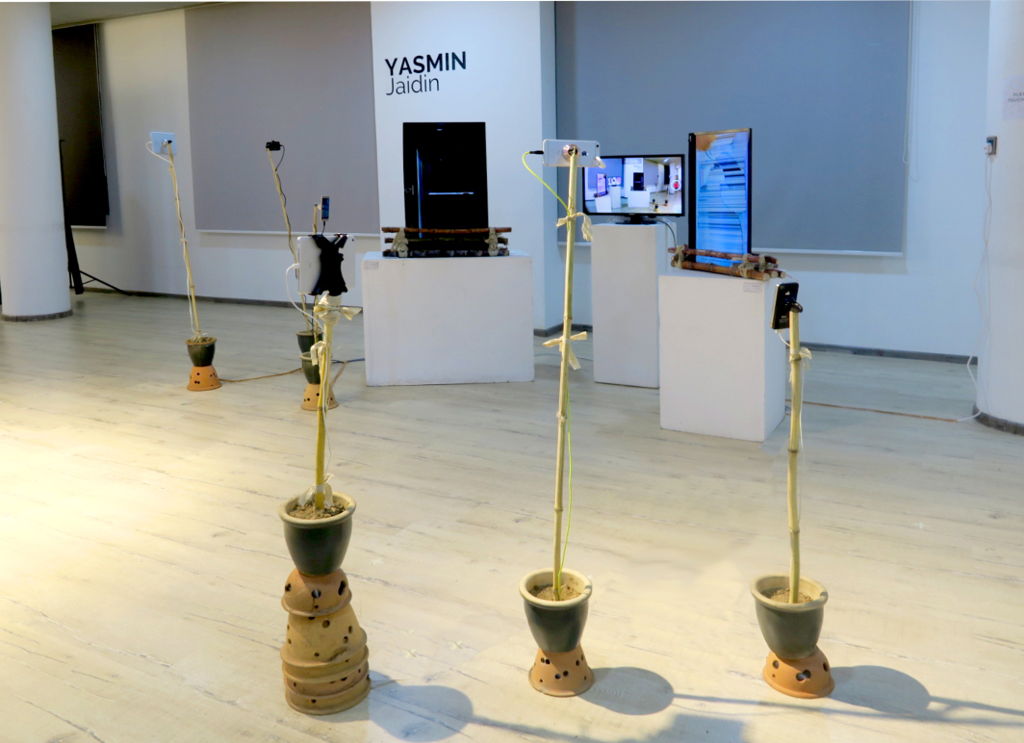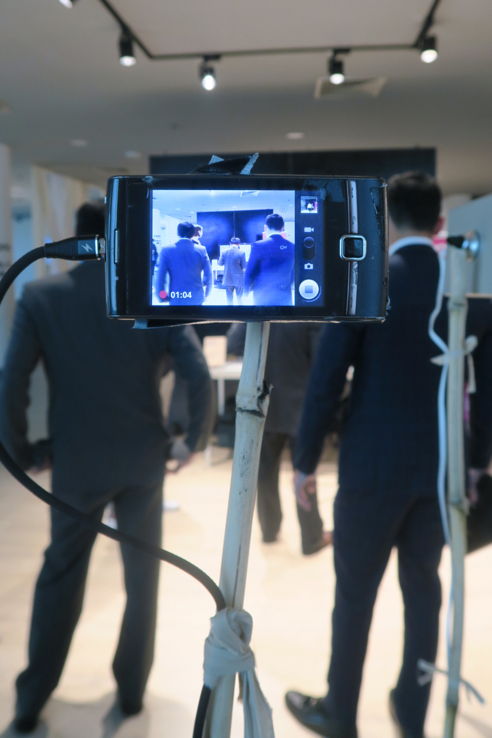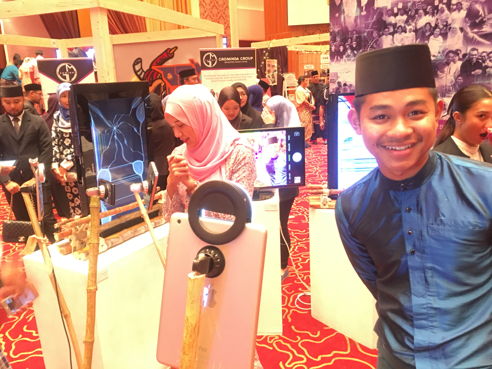 LINKS
Triptych is an installation that features three paintings (Televisions), six mobile devices, bamboo selfie sticks and sugarcane TV stands. All the electronic devices were donated/borrowed from friends and family. The natural materials were taken from my parents' garden. Combining both technology and living material from the natural world makes a statement that technology has now become an element in our 'natural' habitat. The experience of the installation is curated in a way that allows viewers to respond and relate by seeing themselves mirrored in the installation, via their device screens with their front cameras on as they walked through the installation. All the cameras and screens on each device streamed different images from either the front camera or the back. As all devices were directed at different angles, they were not only mirroring the response of viewers within my installation space but also (unknown to the other visitors) the activity by the visitors that were interacting with the installations by the other artists within the vicinity. A key aspect of Triptych is that all three paintings were broadcasting different visuals except for Painting 002, which was broadcasting a livestream from an undisclosed mobile device. This gesture of broadcasting a mobile screen device to a television produced a statement on how we are now able to create our own platforms to disseminate information. It was very important to document / live stream the installations surrounding my space as Triptych was fundamentally created to contemplate our ecosystems and bring an awareness of 'community' and how we collectively can create our own platform. A television is a device that broadcasts information into our homes. All of the information is being controlled and monitored by major broadcasting networks, which ultimately limits the platforms to certain powers. Currently in 2019 it is estimated that 67% of the worldwide population owns a mobile device, and the number is forecasted to continue to grow with each coming year. The beauty of the mobile device is that its prospects are subjective and dependent entirely on its owner. The mobile device gives the population a connection to the world. Even though the beginnings of the first prototype of the internet were funded by the US Department of Defense, ARPANET, the research and concept transfigured into the invention of the World Wide Web, accessible to the public. The poetics in the transfiguration lies in how it organically grew into a system that relied on the engagement and contribution to internet users from around the world; it became a fitting metaphor on the importance of community.
Triptych consisted of a variety of materials: 3 x Donated Televisions exhibited as 'Paintings' 6 x Donated and fully functioning devices. Tablets & mobile devices (iPhone x Huawei) Bamboo, Sugarcane, Discarded Bed Sheet, Pots, Soil & Device Charging Docks. All electronic devices were donated by peers. One television had a broken LCD. All organic materials and gardening equipment were taken from my parents' garden and shed. The installation was entirely sustainable - all organic materials were returned back to their natural habitat, working devices that were loaned were returned back to their owners, and all donated materials were given to friends and family that were in need for a new device. The 'broken' equipment however remains with me. Triptych cost next to nothing.
Why did you make it?
I was invited to represent the Brunei Art Community for an annual government ceremony Hari Belia (National Youth Day). No budget was allocated. The intentions of this annual ceremony is to present what the youths have been producing to our Monarch. This year's theme was technology & innovation. Excerpts taken from His Majesty's Speech in 2016 under the theme of 'Visionary Youth: Catalyst for Transformation': 'His Majesty said visionary and outstanding youth are what the country needs, while reminding that weakness and giving up is never an option and are not the youth's nature, as they must be bold and courageous.' 'His Majesty also cautioned the youth to always keep in mind their religion and cultural roots, by staying away from being too immersed in today's age of unrestricted technology in a world without borders, which the monarch said could mess with people's minds, causing them to do the unthinkable.' Technology is the key to develop the future- but what limitations are put upon us? These 'limitations' are represented in the live bamboo selfie stick potted in soil. Bamboo grows naturally in the wild. But for decorative purposes we have created 'pots' - a tool to limit their natural growth.
The community was involved by a request for donated & borrowed electronic devices. Due to the zero budget, I decided to keep my financing for this installation as low as possible and adopted the concept of 'living off the land'. All organic materials were taken from my parents' garden, all pots were taken from their shed. As electronic devices have now become essential to our everyday life, I had considered these elements as objects I could still apply to my approach of 'living off the land'. I reached out to my community for donations or borrowed materials consisting of televisions as well as mobile devices. After the installation's display came to an end, all devices were returned to their respective owners, and all the organic materials were replanted in my parents garden. Faced with increasingly impossible demands from those in command, I have done what artists have always done - reached out into the community and created something not just for this world, but of this world, made from its everyday materials. Now more than ever we must rely on each other and not on the same old systems that cannot, or will not, sustain us - change must come from the ground, not the top.
Your entry's specification
(Subject to change as some electronics were returned) Televisions: 1 x Samsung 40 Inch (Broken LCD Screen) 1 x Toshiba 34 Inch 1 x Samsung 29 Inch Mobile Devices: 2 x Mini Ipads 1 x iPhone 4S 1 x iPhone 6S 1 x HUAWEI MATE9 1 x HUAWEI (camera phone circa 2006) Other Materials: 6 x Selfie Bamboo Sticks (Ranging from 27 Inches to 55 Inches) 15 x Plant Pots (All plant pots are wired with electrical outlet) Soil 2 x TV Stands made out of sugarcane Bedsheet (Used as string)
CLOSE