No. 161
Agulhas Drifter
By : Cy Keener
Entrant's location : USA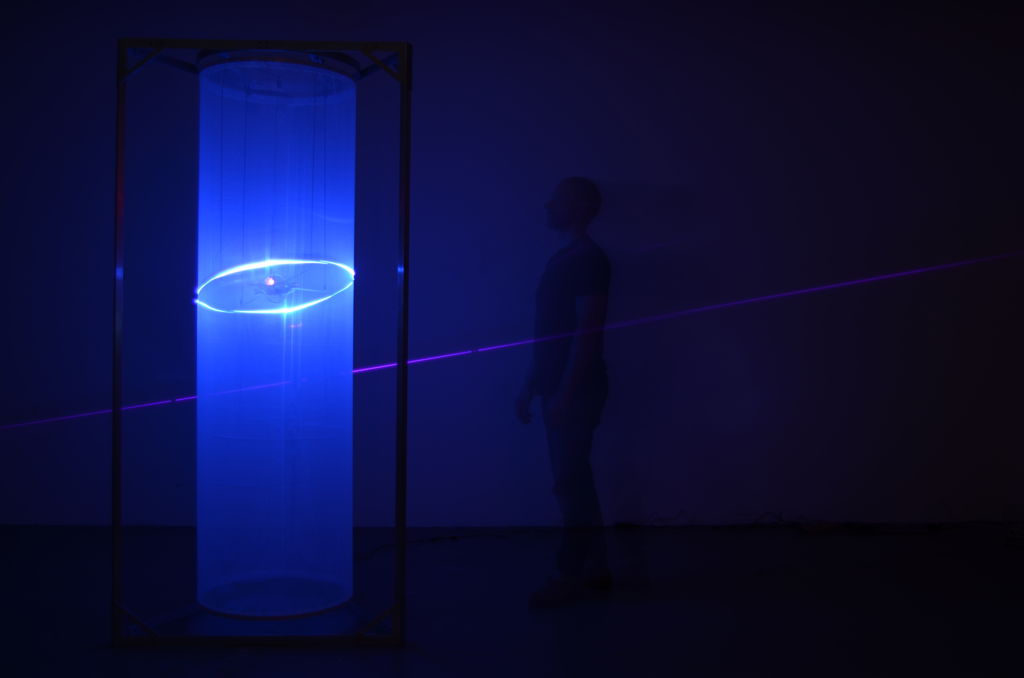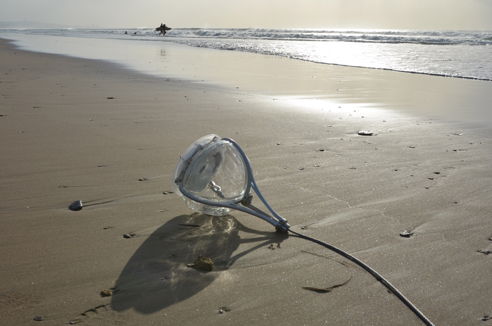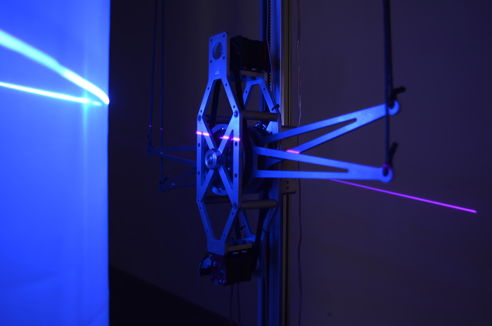 LINKS
Agulhas Drifter is an immersive new media art project that connects gallery viewers with wave conditions in the open ocean. In June 2018, Cy Keener launched a custom blown glass buoy with embedded electronics into the Agulhas current off the coast of Durban, South Africa, and created an immersive light and sound installation that mirrored satellite transmitted wave data in near real time. Agulhas Drifter [Field], 2018. Blown glass, aluminum, stainless steel. resin and electronics. Size: 33 cm x 36 cm x 106 cm. 8 kg. Sculptural ocean buoy to sense and transmit wave motion, GPS location and sea surface temperature. Agulhas Drifter [Gallery], 2018. Aluminum, fabric and electronics. 90 cm x 90 cm x 240 cm. Kinetic sculpture that projects a horizon line with lasers. Motors and electronics animate the light using pitch, roll and vertical acceleration data transmitted from the ocean. Requires 5V and 9V power. http://www.cykeener.com/
Agulhas Drifter is an immersive new media art project that connects gallery viewers with wave conditions in the open ocean. In June 2018, Cy Keener launched a custom blown glass buoy with embedded electronics into the Agulhas current off the coast of Durban, South Africa, and created an immersive light and sound installation that mirrored satellite transmitted wave data in near real time. The buoy captures pitch, roll and vertical acceleration of waves, records sea surface temperature, and tracks currents. This data is transmitted via satellite every eight hours. On the gallery side, an installation visualizes ocean conditions by enacting the most recent wave motion data using kinetic sculpture to project a shifting horizon line of laser light throughout the room. We live in a moment of increased awareness of the ocean's role in maintaining life on the planet, and absorbing the effects of human caused climate change. This project uses electronics, data and kinetic sculpture to create a powerful immersive connection between a remote ocean location and the gallery. Through the repeated viewings, gallery visitors begin to experience the ocean as a living, changing force, at times calm and serene, and at other times wild and kinetic.
Why did you make it?
The drifter or data buoy design was an effort to question and rethink the Surface Velocity Profile (SVP) drifter design that has been in service since 1992 using contemporary digital and hand craft methods with the goal of reducing environmental impact on the ocean. Today (October 27, 2019) there are 1,408 SVP drifters reporting to a global monitoring system. Each buoy relies on plastics, urethane foams and up to 72 D size batteries to record and communicate oceanographic data. Agulhas Drifter is a proof of concept project to see if the relatively inert materials of blown glass and aluminum can be used to create the primary buoyancy to support a small cast resin electronics, battery and solar panel enclosure. This approach was inspired by the historic use of ukidama or blown glass spheres used as floats in fishing nets. The project also explored aspects of digital craft and hand craft, as it relied on digital modeling and CNC routing to make a wooden mold for hand blown glass.
The blown glass shape was modeled in Fusion 360. The primary design consideration was to create a shape that would enable three aluminum pieces to cradle the glass, provide constant orientation in the water, and enable attachment of a watertight clam shell for the electronics. A wood mold was cut using a 5-axis CNC router at the Autodesk Technology Center in San Francisco. Cherry wood was cut, measured and modeled in Fusion. The desired glass shape was then subtracted from the 3D model, and CNC tool paths were created to carve each piece. The resulting parts were then assembled, sanded and soaked in water for several days before collaborating with a glass blowing artist. Aluminum elements were cut on a waterjet and hand finished. The electronics enclosure was 3D printed, silicone molds were made, and clear resin was cast. For the data visualization light sculpture, custom and stock parts were modeled in Fusion 360. Fabrication for the frame and stepper motor holders was done by hand and with the waterjet. The complex 3D form designed to hold four laser lights was cut from solid aluminum stock using a 3-axis mill.
Your entry's specification
Agulhas Drifter [Field], 2018. Blown glass, aluminum, stainless steel. resin and electronics. Size: 33 cm x 36 cm x 106 cm. 8 kg. Sculptural ocean buoy to sense and transmit wave motion, GPS location and sea surface temperature. Agulhas Drifter [Gallery], 2018. Aluminum, fabric and electronics. 90 cm x 90 cm x 240 cm. Kinetic sculpture that projects a horizon line with lasers. Motors and electronics animate the light using pitch, roll and vertical acceleration data transmitted from the ocean. Requires 5V and 9V power.
CLOSE