No. 252
p(O)st
By : Alex Augier
Entrant's location : France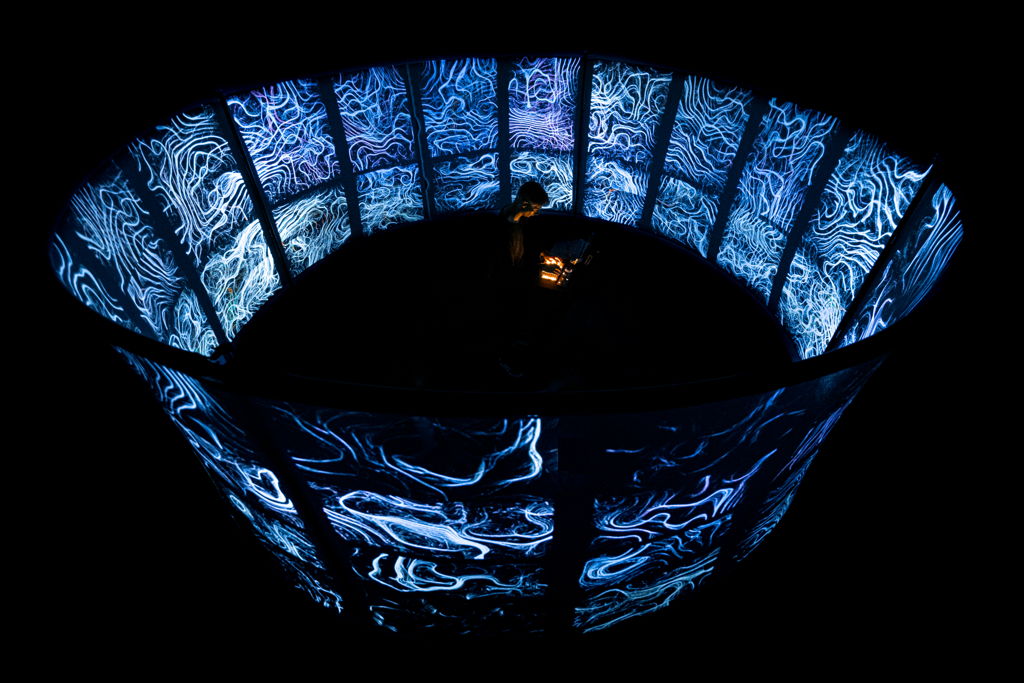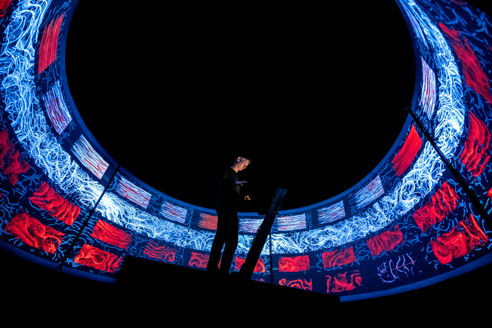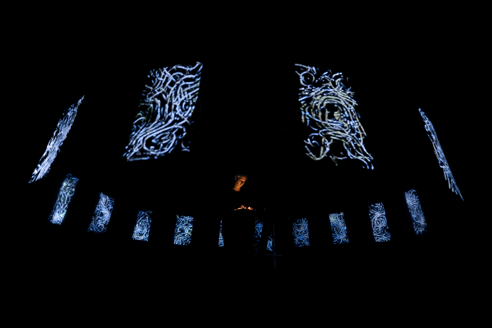 LINKS
p(O)st is an AV performance that places the audience around a cylindrical and transparent screen in which the artist interprets the audiovisual medium in one piece. The stage design evokes the sampling and looping technics and inscribes the project in one of the best-known practices of electronic music. However, p(O)st inscribes this practice in a transversal approach by integrating generative visual, space (360° sound + 360° visual deployed with a special technic of AV spatialization and allowed by the special stage design), imagines new ways of playing (macro-loop, micro-loop…) and integrates an avant-garde interface specifically programmed for the project. The transversality of p(O)st is an illustration of how emancipate from traditional forms, going beyond the codes of known aesthetics, imagining new ways of playing, creating unique spaces specifically adapted to the diffusion. p(O)st is coproduced by Arcadi (Paris/FR), stereolux (Nantes/FR), supported by La Muse en Circuit (Alfortville, FR). http://www.alexaugier.com/post/
p(O)st is an AV performance that places the audience around a cylindrical and transparent screen in which the artist interprets the audiovisual medium in one piece. The stage design evokes the sampling and looping technics and inscribes the project in one of the best-known practices of electronic music. However, p(O)st inscribes this practice in a transversal approach by integrating generative visual, space (360° sound + 360° visual deployed with a special technic of AV spatialization and allowed by the special stage design), imagines new ways of playing (macro-loop, micro-loop…) and integrates an avant-garde interface specifically programmed for the project. The transversality of p(O)st is an illustration of how emancipate from traditional forms, going beyond the codes of known aesthetics, imagining new ways of playing, creating unique spaces specifically adapted to the diffusion.
Why did you make it?
p(O)st express a singular audiovisual concept. All material are deeply connected in a technical and artistical way (sound, visual, space, interface, stage design) and live performed like a unique material using an original technic of sampling/looping (mlr-based). The stage design allows both sound and visual spatialization. Sound spatialization is made with a ring multiphonic system (ambisonic). The visual spatialization is allowed by a cylindrical and transparent screen (the audience is all around and the artist is inside). p(O)st use an original sampling/looping technic : each samples are fragmented in 16, 8… fragments and the interface allows to perform each fragment in any order, to compose new loops in real-time. Each fragment are connected in one location of the space (that you can see and hear). Inside a loop, it's possible to make loop again (macro-loop, micro-loop). Monome design (Arc and Grid controllers) is deeply connected to the stage design and the sampling/looping technic. These controllers allows a very intuitive performance with the whole object, in particular with the space location of the audiovisual material (see photos). The circle (O) is the main shape of the project !
Production was about both physical and virtual processes. The first physical process was about : how to make both sound and visual spatialization on stage ? This initial intention have justified the stage design : a cylindrical and transparent screen (with the audience all around) linked with an ambisonic sound diffusion. This setup support this idea. The whole structure and 4 ultra-short-throw videoprojectors are transportable easily in 4 regular luggages and it was a really challenge to take in considerations (size, weight, quick setup…). The second physical aspect was about : how to perform sound, visual, space, like an unique material and in the framework of this stage design ? This second intention have justified to use Monome controllers Arc and Grid. Shape of these controllers are deeply connected to the shape of the stage design and visual. They allow an intuitive performance. It was a long process to program these interface in the order to get the best ergonomic as possible. The virtual processes was about music making, visual design and programing (Processing), interfaces and spatialization programing (Max). Structure, videoprojectors, residency… have justified a financial support : coproduction Arcadi, Stereolux, La Muse en Circuit.
Your entry's specification
Detailed technical rider with all diagrams is available. Feel free to ask it. The cylindrical and transparent screen is 5 meters in diameters, 2 meters in height and start at 80 cm from the floor. It is simply placed on the floor (but hanging from the ceiling is possible). it is around 30 Kg. Inside the structure, the artist need a riser 2 x 1 meters, start at 80 cm from the floor. The audience is around and required enough space : 5 meters minimal, means a venue of 15-20 x 15-20 meters. The venue have to be as black as possible. Ring multiphonic system is around the audience.
CLOSE