GRAND PRIZE
Penta KLabs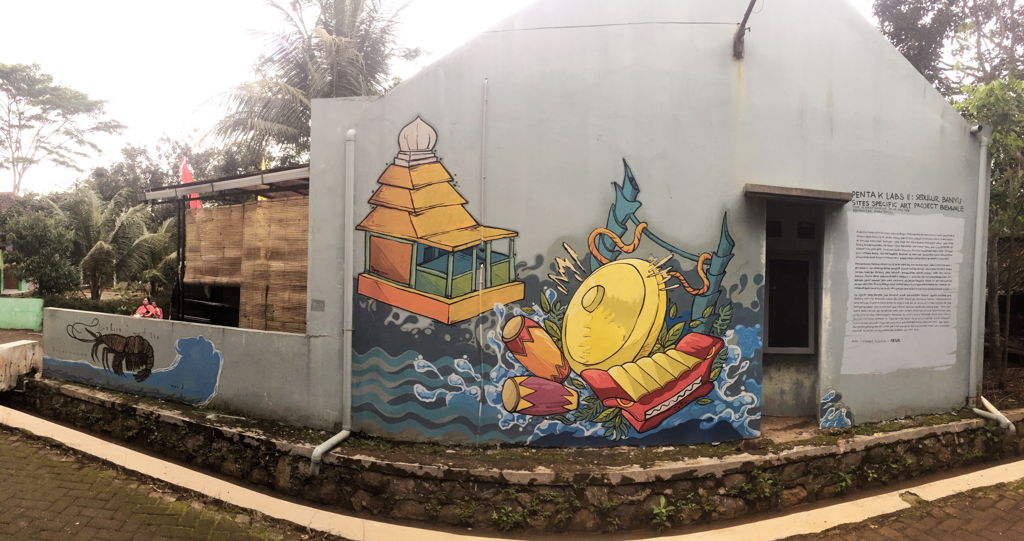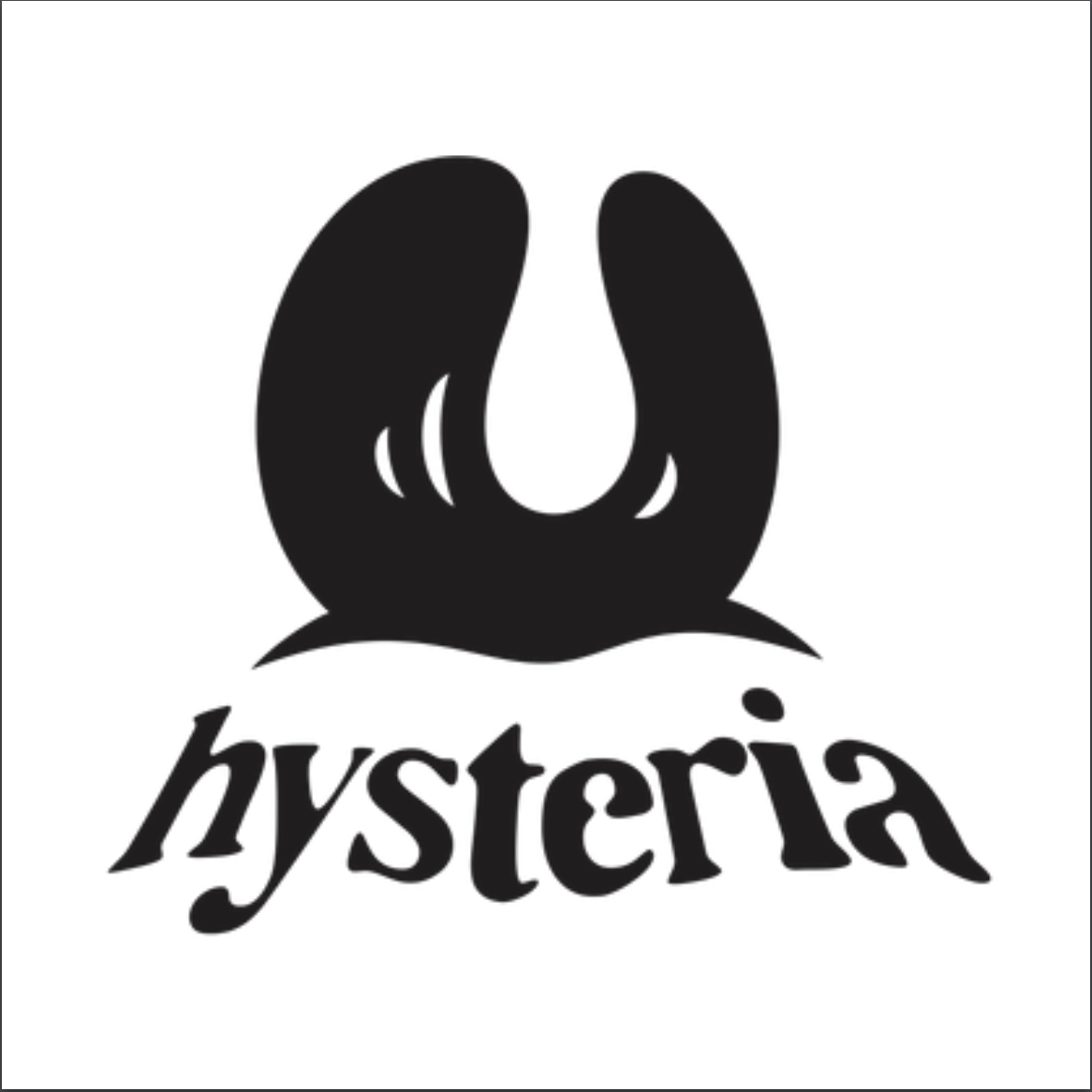 Category : GENERAL
By Collective Hysteria (Indonesia)
Profile
Collective Hysteria
Collective Hysteria is an artist collective that has been running the Penta KLabs organization since 2004. Our concerns are around community development, youth culture, art and technology and city issues. Our activities include participatory urban planning through art and enrich people's perspectives by using technology one our own terms by using modest applications. For example, open street maps for mapping and hp can be used as storytelling devices for revealing daily stories in specific places.
What did you create?
A public event that bridges multiple stakeholder. Initiated in 2016, this event was an art project biennale that was located in specific site areas. This annual event was held to better understanding how to deal with city issues as well as the lack of art ecosystem in Semarang. Penta Klabs is not only a contemporary art exhibition but also a stakeholder that involves city-making using individual local's abilities (architecture, urban planner, etc). The first event was held at Kemijen, a kampoong which is located at a coastal area that dealt with flooding and tidal waves. We try to capture how people becoming resilient to facing daily stressful situations such as flooding. The second one was held at Nongkosawit, a kampoong which deals primarily with water issues. We tried to capture land at Nongkosawit and look at the effect of the water ecosystem. All these festivals happen at Semarang, a capital city for Central Java, Indonesia. This event brings the artist and creator to deal with specific issues. We not only do an exhibition or showcase, we initiate public discussion that invite many stakeholders to talk about specific issues.
Why did you make it?
We believe art has the capacity to shape nature and culture. As beuys statement in the social sculpture, we need to widen public art and impact to society. After 12 years of being active in Semarang, we realized that we needed a clear reason as to why we were still doing art things because unlike Yogyakarta or Bandung, its very difficult to survive here. After a deep study about our context, we decide to choose this approach to make cultural activity that is relevant within the city condition itself. We create our art biennale and because of the context, it is very different than other biennales. We do support ourselves most of the time, and sometimes there's sponsorship but not much. After 4 years, we keep to maintain this event and we became more aware of our capacity and city context. There are some biennale at Indonesia, but they are mainly organized by the government. We choose a site specific area based on our capacity and outreach but even in the narrow area we try to bring global issues to attract broader contexts and contribute by using special cases. For example, we can talk about sea levels and climate change through a festival which is held at Kemijen which facing flooding daily.
How did you make it?
Usually, we do ethnographic research. We gather daily knowledge that resides at specific area. After that, we invite some artists to create art work base on our research and make adjustments with local situation. Basically, they create art work that relates with place and space. We also invite multiple stakeholders to create another project like a workshop on how to use drones to do area mapping and increase their capacity to advocate the villagers themselves. We also we created a symposium to make the issues receive a broader audience, not only to academics but also to government individuals. In the case of Kemijen, we succeeded to invite the city mayor to accelerate building to solve the flood issues. In terms of the Nongkosawit case, we invited many academics to present how important it is to preserve trees to maintain water springs in high lands.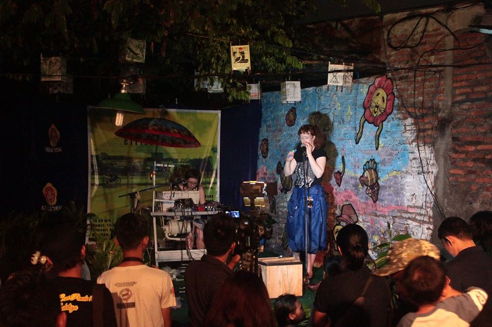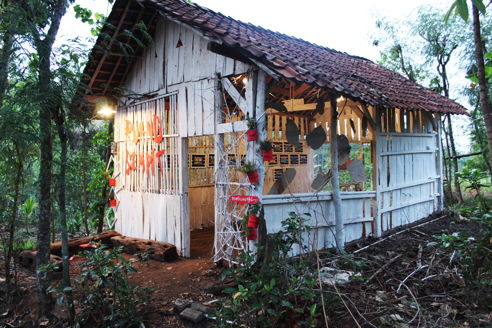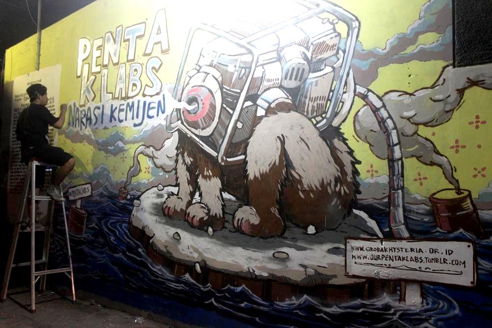 JUDGES
,
COMMENTS
There may not be anything that can change a person's behavior or attitude as much as the location. Just the slightest difference in how something or someone is placed can alter not only the physical distance, but potentially even the relative, relational perception that two people have to one another. For instance, if one were to liken "innovation" to "the force by which society updates itself", there is nothing quite as significant as the effect that the location has on this force. Now, this is not to say that we should fabricate some "hardware" by simply adding buildings to a particular location. What we need to fabricate is an environment in the broadest sense of the term. Any given location includes a diverse array of individuals, elements of nature, and a distinctive culture—characteristics which intersect in an intricate pattern like the woven strands of a net. The question is, as a manner of speaking, how we go about hacking into this body of complex systems which have a proclivity to solidify and stagnate in order to produce new interactions and relationships, both between people, and between people and their environment. This is an experiment without a goal—a do-it-yourself project to construct a way of living manifested in society itself. I don't believe that there has been a single project that has more aptly embodied the term conviviality out of all of the applications for this year.

Chiaki Hayashi


Loftwork Inc. Co-founder

Last summer, a biology-loving individual traveled to an interesting part of Indonesia. The area that was visited was by no means an affluent area. However, a tenacity to try and "change the region" without getting caught up in whether or not it would be financially feasible resulted in a gathering of like-minded optimism with adventurous activities spanning the area of Fab, biology, and theater. At the time that I heard of these activities in Indonesia, I truly felt as though these kinds of places would serve as the crux of a new generation. It was only after the announcement of the winner that I realized that this was the place chosen for this year's Grand Prize award.

I do not think it was sheer coincidence that this year's award went to a kind of "activism" activity as opposed to a "thing" that represented the cutting-edge of biology or Fab. Perhaps it also was not a coincidence that the winner was from Asia as opposed Europe or America. This year's Grand Prize winner was a work that seemed to be a harbinger of changes to come.

Leonhard Bartolomeus


Artist collective ruangrupa & Gudskul Ekosistem

One of the important thing of this year YouFab Grand Prize winner is there is almost no technology involved as the primary medium. PentaKLabs is a "placemaking" project that was delivered the idea to bridge between public, artist, and its natural environment. Rather than focusing on technological advancement, Hysteria decided to focus on the human/environmental needs first. By doing a field works: visiting the site, talk and hang out with people, they collecting the issues that could be developed together with the artist alongside with the people. Instead of just intervening, PentaKLabs allows the people to hack the knowledge from the artist and vice versa--which hopefully could be useful for them in the future life. Even though there is no tech-device, we should see the practice of commonality and community engagement as a convivial-technology. It is something that we need to focus on in the upcoming years and then to try to use technology as a gift that could bring humanity together again with our surroundings.

Keiichiro Matsumura


Okayama University Literature Department Associate Professor

Having a foundation in something and acting on it is the reason technology is used and artworks are created. Since the goal isn't to create something, there are no completed "works" or "products". What they are confronting are the livelihoods of people worried about floods and water issues. Conviviality has to do with displaying the potential we have to look for ways to solve our own problems, instead of relying on large systems or authorities to settle these issues. Collective Hysteria conducted an ethnographic survey together with people, gathered practical knowledge from that period of time, and created a place where artists could participate. Their expertise are shared by conducting a symposium that also includes scholars and government workers. Those actions are substantially more meaningful than simply making works that rely on the "newness" of technology. That is because it is not possible to separate technology from the social lives of people. Their activities reaffirm that we have the power to involve others, create our own convivial space, and deal with our own problems.