Concept
Cars' noises, airplanes' roars, underground's rustles, trains' dins, loud sirens… Paris is, like other ones, a city where silence is rare. "Cartes des Silences – Paris habituelle / confinée" [Silences Maps – Paris usual / confined] is a visualisation of the sounds of Parisian streets in order to find some silent spaces. It is a series of moving maps showing the sound levels in different locations in Paris and its suburbs. The work selects specific spaces and compares their sound level before and during the first lockdown linked to the 2020 sanitary crisis. This lockdown took place from March 17th until May 11th.
The data shown are the decibel levels in both day and night of the "usual" annual average level (recorded in 2019), and of the "confined" average level. The data are gathered by BruitParif, a scientific institution modeling and mapping sound levels. It is composed of 8 different levels (>45 dB, 45-50, 50-55, 55-60, 60-65, 65-70, 70-75, >75). This work aims at showing the noise pollution in Paris and how the first lockdown had an impact on it.
These maps are revealing the rarity of calm zones in the urban environment of Paris. The moving images focus on how sound spatialise in an urban environment, they are a speculative take on finding silent spaces in an urban context.
Noise pollution is a crucial environmental problem for humans and non-humans. According to the WHO "when all transportation noise is considered, about half of all European Union citizens live in zones that do not ensure acoustical comfort to residents". Paris is the 9th noisiest city in the world. Most of its public spaces are far above the WHO guidelines in terms of noise pollution (54 dB for the daytime in road traffic, 45 dB for daytime in aerial traffic, 53 dB for daytime in train traffic). Noise pollution has a big impact on health: on a psychological level, noise can cause attacks of stress, fatigue, depression, anxiety, and hysteria in both humans and non-humans. On a physical level, it can cause respiratory agitation, racing pulse, high blood pressure, headaches, and, in case of extremely loud, constant noise, gastritis, colitis, and even heart attacks.
While silence in the city is conditioned by the absorption of sound by the buildings, it is hard to find calm public spaces. The silence, taking shape in the urban space, was much more present during the lockdown, due to the wide decrease of public transport, cars, trains, planes. The « zones calmes » [calm zones] expanded in the city. The reduction of noise pollution during the lockdown had a largely positive impact on people's mental health, says research from Acoucité (Observatory of the sound environment). The lockdown had an impact on the presence of calm in the city and this can influence the future of "real experiences".
However, trains stations and main crossroads were still recording high levels of noise pollution. Usually, noise is so present in the city that we tend to forget how it affects us. As noise is immaterial, we also tend to ignore its polluting impact. I intent through this project to create visuals so that one can understand better the spatialisation of noise pollution and what we can learn from its reduction. In modern cities, an exponential amount of cars regularly crosses our cities. Airplanes and trains add to the environmental noise scenario. I wish through this project to raise awareness on noise pollution, and in the future to apply it to more cities and places in the world.
Based on BruitParif maps, I have associated each average decibel level to the corresponding sound. Using a dedicated software, I have then modeled each sound so that it variates around its corresponding decibel level. The final result is then materialised in a video. The maps are showing decibels levels from <45dB to >75dB, <45 dB being in black and >75 in white. The video compiles these places : Gare du Nord/Gare de l'Est (train stations), Aéroport de Paris – Orly (airport), Buttes-Chaumont (park), Arc de Triomphe – Etoile (crossroad), and Bois de Boulogne (large park).
This project is a work in progress, it is part of a research on noise pollution that I started in 2018. The first maps were based on the 18th district of Paris, a very contrasted area in terms of noise pollution. It was composed of a moving map in a video format, a series of silkscreen prints, and large prints to be disposed of in the streets as a tool for discussion.
Gare du Nord / Gare de l'Est
left : Gare du Nord / Gare de l'Est – Usual
right : Gare du Nord / Gare de l'Est – Confined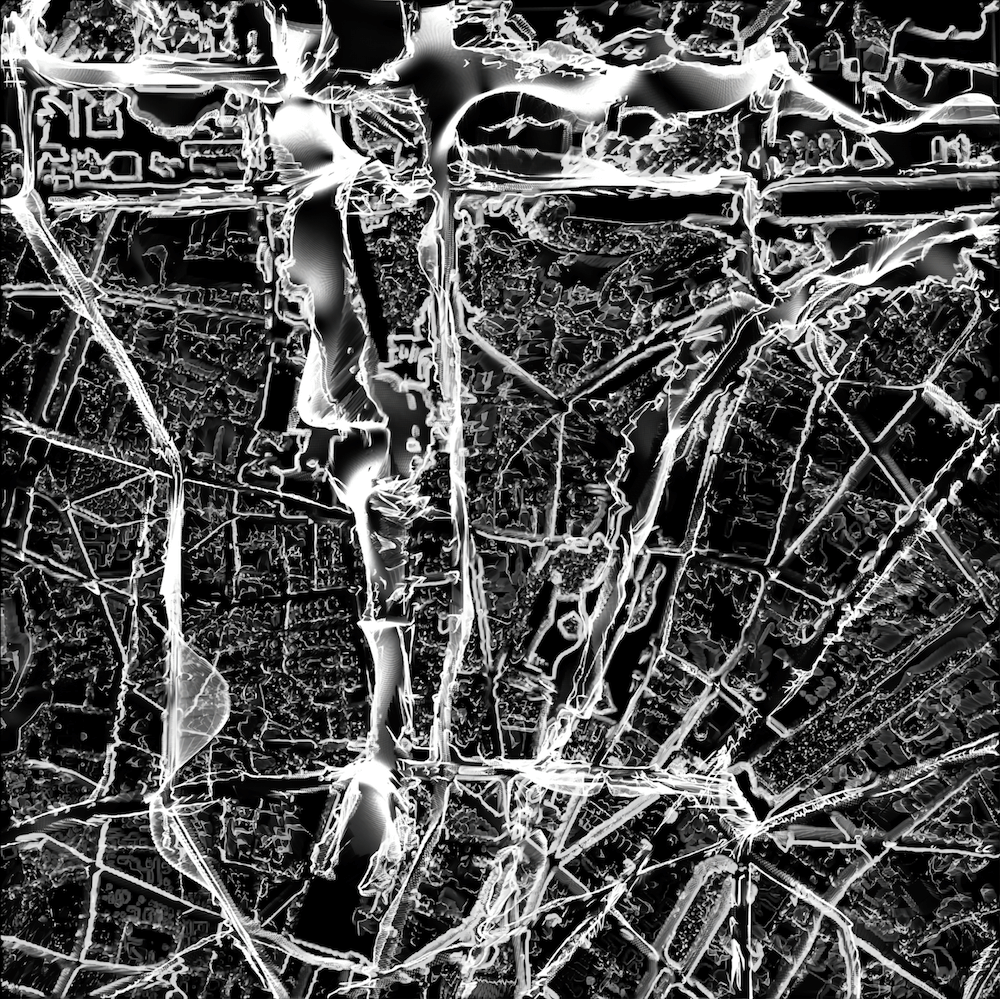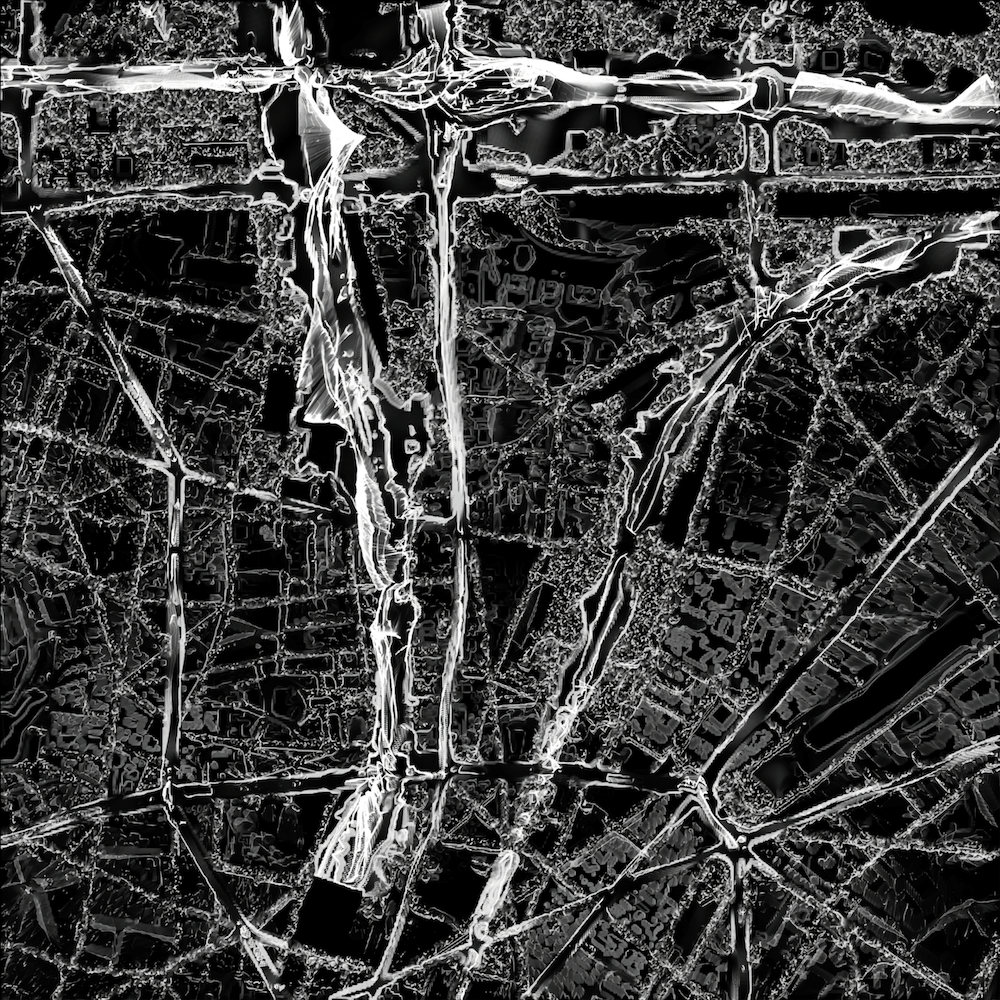 Bois de Boulogne
left : Bois de Boulogne – Usual
right : Bois de Boulogne – Confined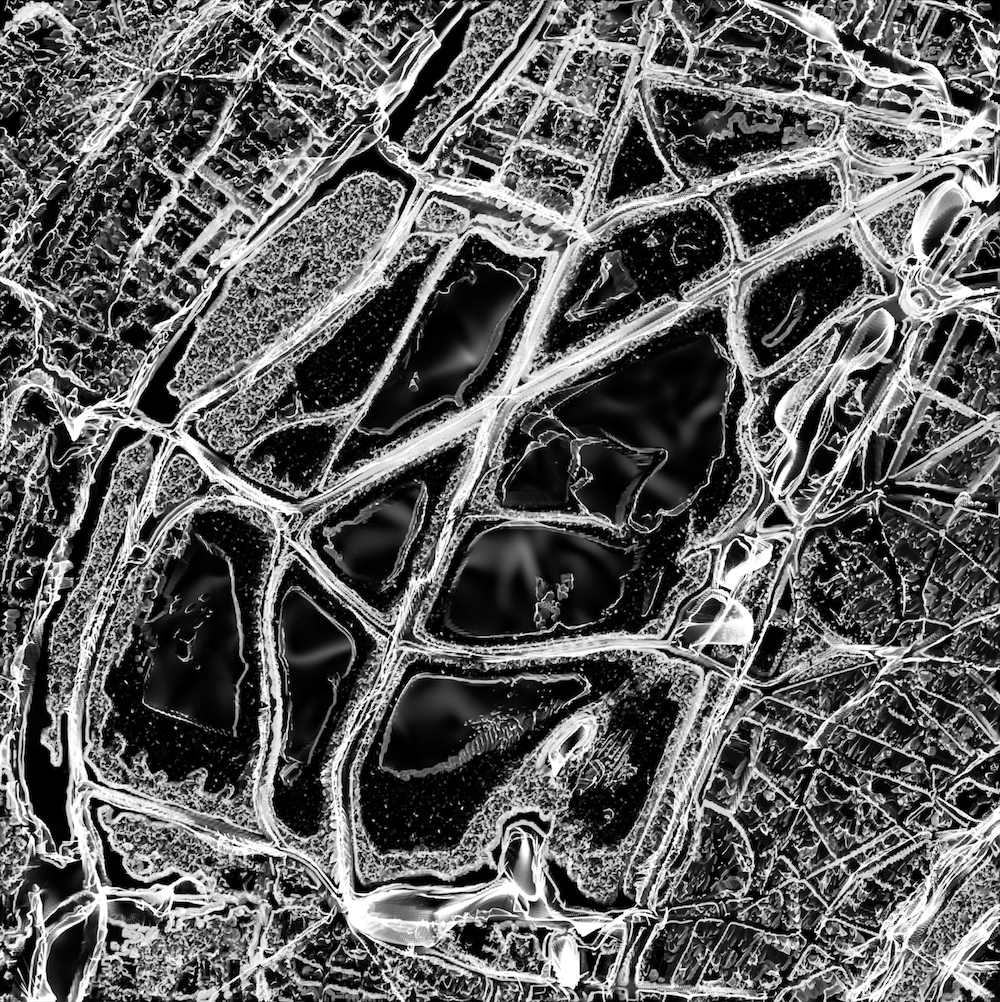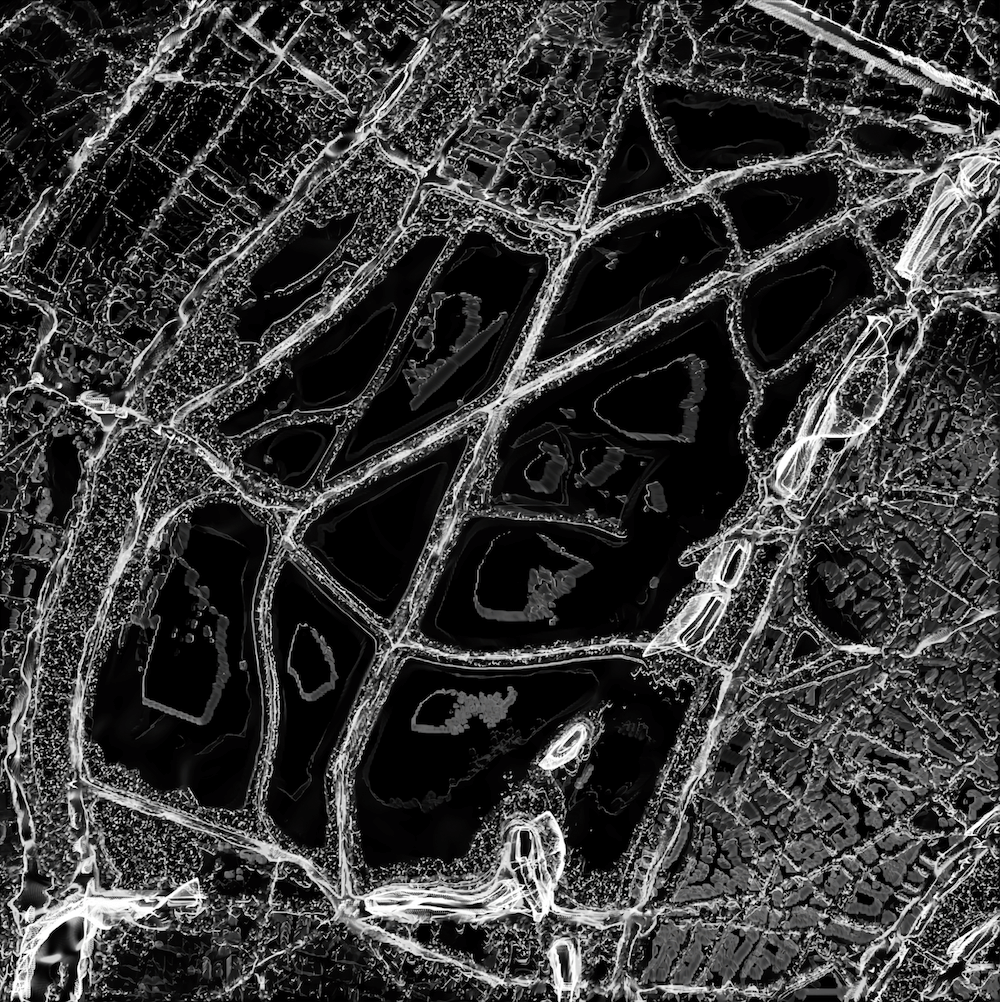 Aéroport de Paris – Orly
left : Aéroport de Paris – Orly – Usual
right : Aéroport de Paris – Orly – Confined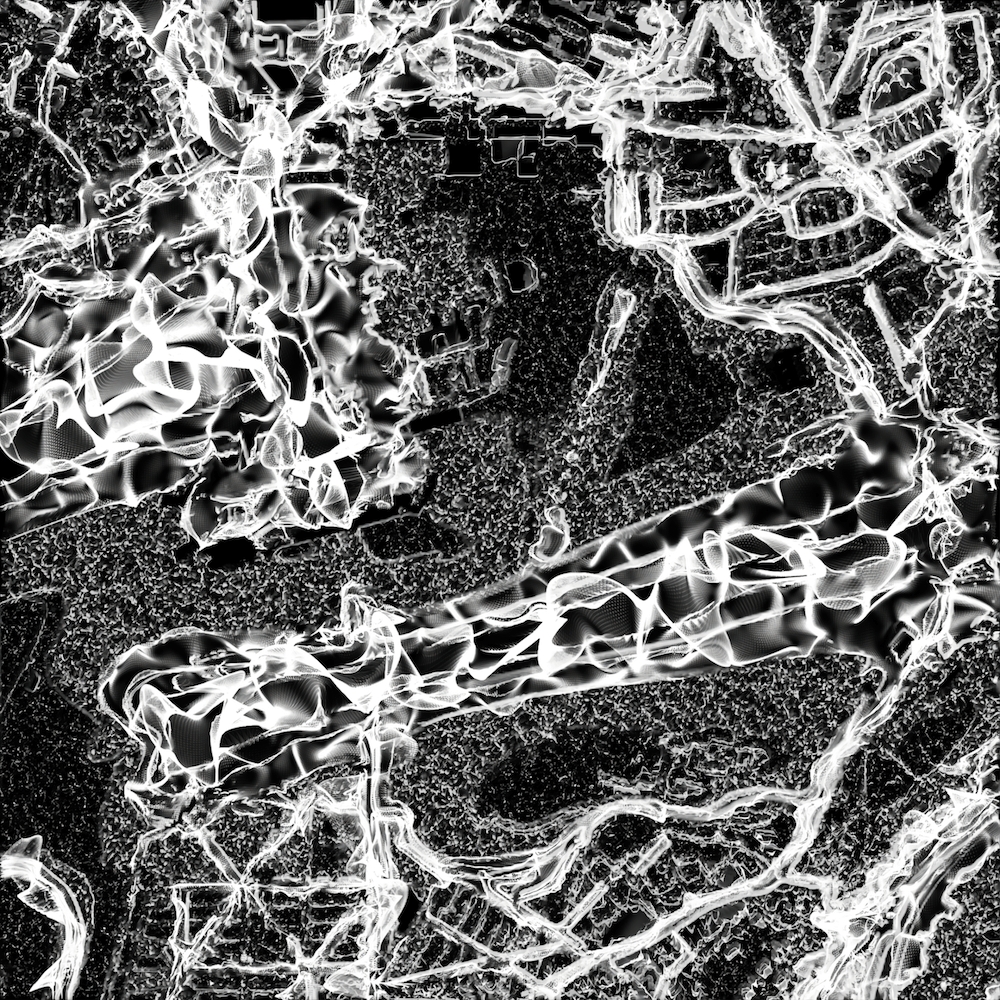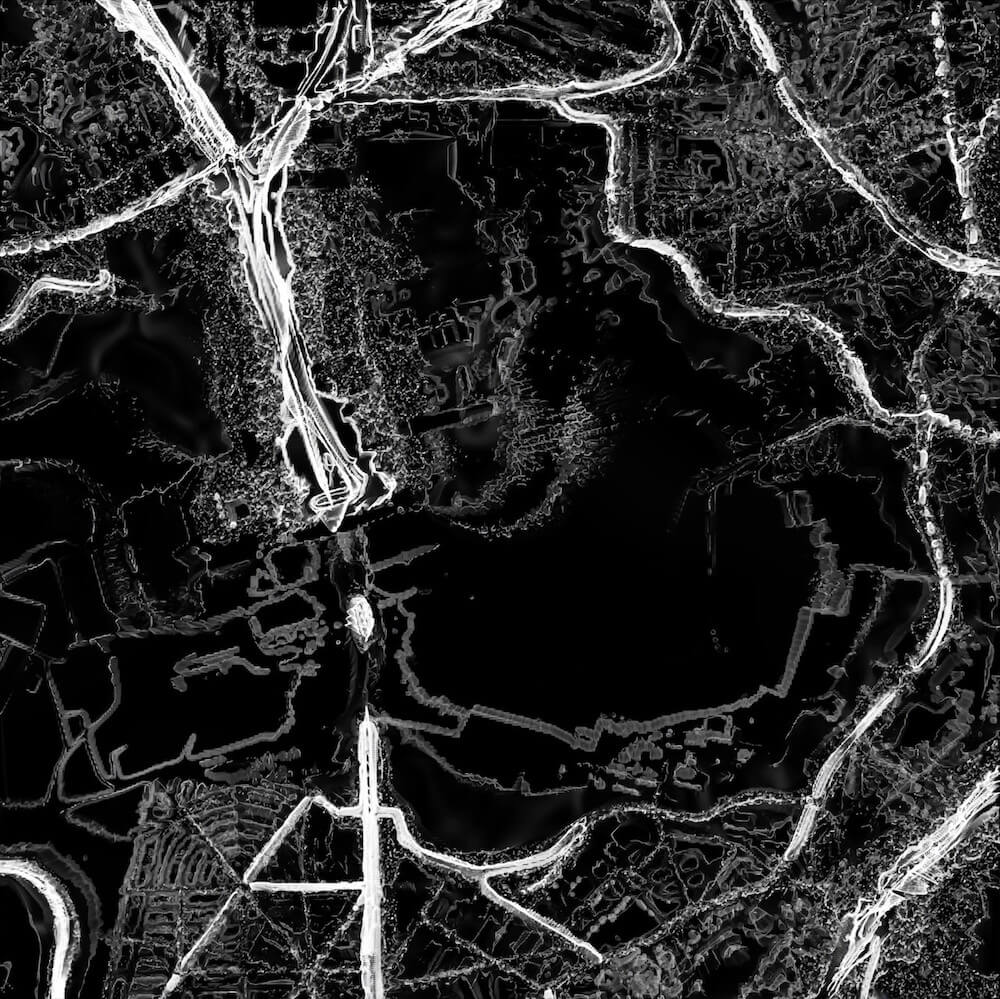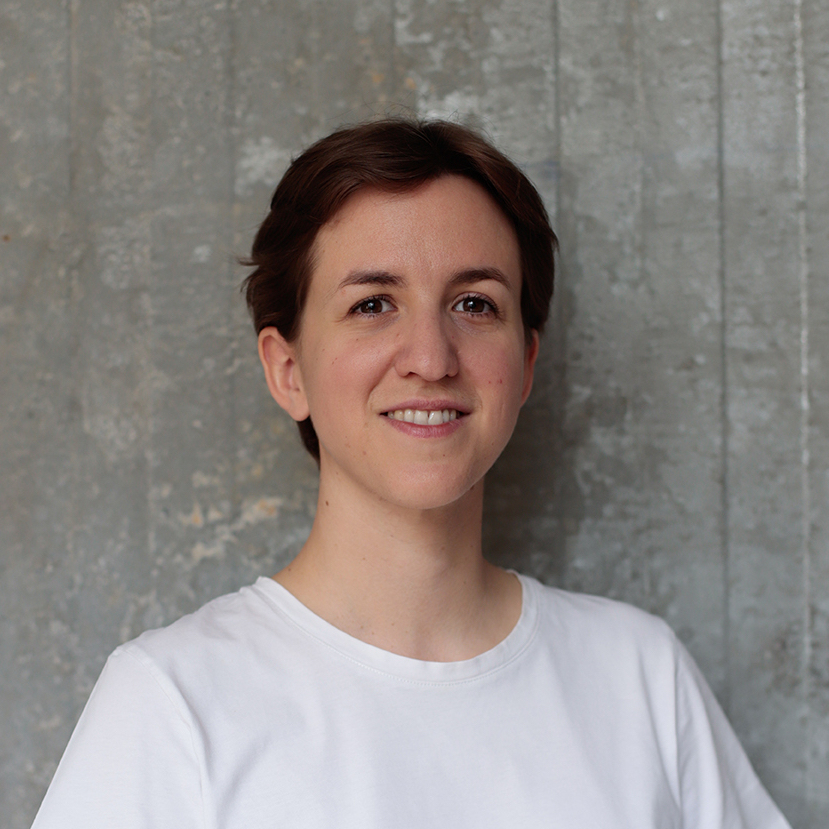 Clémence Althabegoïty
Paris, France
Clémence Althabegoïty is a designer and visual artist from Paris, France. Using contextual analyses and material research, she designs objects, spaces, and environments. Driven by an ecological conscience, her practice aims to create alternative solutions, raise awareness and think critically matters such as pollution (noise, air, and ground) and water scarcity. By applying unique properties of materials and crafts, she embraces each project as an opportunity to explore new media and create site-specific works. She graduated with distinctions from the Centre of Research Architecture (Goldsmiths, University of London) in 2019, from École Nationale Supérieure des Beaux-Arts de Paris in 2018 and Design Academy Eindhoven in 2016. Her work has been exhibited in Lumen Gallery (2019) in London, in Kazerne (Hope, 2019) and TAC (DDW, 2016) in Eindhoven (NL), Collectif Coulanges (Paris Design Week, 2020) and in Musée Cognacq-Jay (Paris Design Week, 2016) in Paris (FR).