Description
Geophagy is the scientific name for the practice of eating earth and earth-like substances, such as clay and chalk. Eating earth is an ancient practice and is an integral part of many cultures across the world.
The Museum of Edible Earth is a cross-disciplinary project with at its core a collection of earth samples, which are eaten for various reasons by different people across the globe. It invites the audience to physically question our relationship to the environment and the Earth, and to review our knowledge about food and cultural traditions using creative thinking. The Museum of Edible Earth addresses the following questions: What stands behind earth-eating traditions? Where does the edible earth come from? What are the possible benefits and dangers of eating earth? What engagement are we, as humans, establishing with our environment and non-humans?
The Museum of Edible Earth has more than 400 edible earth samples, mostly clay, such as for instance kaolin and bentonite, as well as chalk, limestone, volcanic rock, diatomaceous earth, and topsoil. The materials originate from 35 countries. Alongside the earth collection, the Museum of Edible Earth includes graphic design materials, photography and video works, online edible earth interactive database (www.museumofedible.earth), installations and performances. It fosters collaborations with scientists, artists, designers, researchers and cultural communities.
The Museum of Edible Earth contributes to the cross-fertilization between science and art. Geophagy among animals as well as geophagy among humans is scientifically researched. Papers about it are published in the journals on anthropology, history, psychology, sociology, chemistry, and biology.
The Museum of Edible Earth is a movable museum. Its presentations are mixed-media and participatory, often involving earth tastings, workshops, discussions and screenings.
Disclaimer: Eating earth is not recommended by food authorities and is at your own risk.
Concept
"She went back to eating earth… little by little she was getting back her ancestral appetite, the taste of primary minerals, the unbridled satisfaction of what was the original food. She would put handfuls of earth in her pockets, and ate them in small bits without being seen, with a confused feeling of pleasure…" – Gabriel García Márquez (One Hundred Years of Solitude)
Geophagy is the practice of eating earth and soil-like substances, such as clay, chalk, and soft rocks. Since ancient times, people have believed in the sacredness of the earth. The importance of touching or eating earth is present in many cultures. In the Bible and Koran, God created the first human out of clay. In Africa, South America and Asia earth-eating is still a common cultural, spiritual, or healing practice. Regardless of religion and country, the earth is an embodiment of nature as the mother.  It symbolises female, life-giving forces, fertility, and the continuity of the lineage. In some cultures, eating earth can be seen as a spiritual practice of reconnection with one's origins, with oneself, and with the invigorating power.  
While in Europe and the USA eating earth was as well a cultural tradition, it is now officially regarded as a psychological disorder, known as pica, which is included in DSM-IV (Diagnostic and Statistical Manual of Mental Disorders).  However, some people in the Netherlands still practice various types of earth eating. Several popular brands available in health shops, such as Ecoplaza and Biomarkt, provide clay officially meant for internal use. Besides, several clays from Tanzania, Nigeria, Ghana, Congo, and Suriname are available on the Dutch market in cultural shops as unlabelled products. 
The Museum of Edible Earth is a project from the Amsterdam-based artist masharu (RU/NL – They/Them) through their studio, the masharu studio. Its goal is to constitute an extensive collection of soils suggested for oral use from the most countries possible and, through their different cultural uses and histories, but also with the help of cross-disciplinary partnerships, workshops and collaborations, redesigning and reconsidering the earth.
The Museum of Edible Earth has been developed and researched since 2017. With the help of entities such as the Mondriaan Fund, the Prins Bernhard Cultuurfonds, Niemeijer Fonds, the Creative Industries Fund NL, and the Prix Ars Electronica (Award of Distinction 2021, Category Artificial Intelligence and Life Art) masharu has been able to give a shape to this project step by step. First conceptually, then slowly from 2020 more physically with a dedicated displaying installation, an online platform and harmonized presentation for the samples of the collection. The in-depth research happened through travels in countries where geophagy is practiced, during which interviews, explorations, workshops, and exhibitions are developed. 
With this project, we develop an innovative way of engaging to questions of environment and sustainability, by engaging to these thematics through the sensorial experience of "tasting the environment". The audience is at the core of our work, as our Museum invites the visitors to taste the earth, share their tasting experience and engage in dialogues around our relationship to the environment, but also cultural differences. Through an innovative artistic work process, the Museum of Edible Earth puts the audience at the center of a participatory interactive process based on the eating of the Earth. 
The project is based on masharu's personal desires. Since they are a child, they have been desiring to eat clay and ceramics. As a kid they used to eat sand on the playground. At school, they craved to try a piece of chalk but never dared. They tasted it for the first time only when they were working as a teacher at the university in Eindhoven.  They got addicted to it.  Geophagy turned out to be a broad and a controversial topic, which is present in their work and creative practice since 2011. For a few years, they are eating earth daily, thus it is their personal practice and passion that manifested in a professional project. The building where they bought an apartment, and thus found a home in Amsterdam, has the address Kleiburg (the clay burg). Last years they looked for the links between the collection of material and the ceramics product, as a metaphor for the world citizenship. They presented this idea a first time in November 2018 in a performance 'Surpassing the Beeline' directed by Abhishek Taphar in Frascati Theater, Amsterdam.  Hereby is a citation from the performance, which acts as a great explanation of the motivation of the project: 
"After 11 years living in the Netherlands, I still do not feel completely Dutch. I will always be an immigrant. At the same time, I do not feel Russian anymore, still asking myself, who am I? I went back to eat white chalk from the sacred mountains where orthodox churches and monasteries are located.  I really desired that chalk, and even though it seemed pure and sourced directly from nature, I was getting stomach pain, but I couldn't stop eating. 
For the past year, I have been in the practice of collecting and eating earth from across the world. Sometimes, it makes me feel like a world citizen. I started mixing different types of edible earth from different countries. This material has memory and keeps history of what the land has experienced. To make sense of who I am, I listened to these materials. It experienced shifting homes, wind, turbulences, love, loss. It would inform me rather than I inform it. Earth knows better than I do. I wanted to map the right composition of the material, which would sustain, and could represent me. However, different types of clay repel each other, and remain fluid. Of course, I still take pieces of ceramics and eat them.  
Here are ceramics cups produced out of mixture of clays, edible earth found on the Dutch market, face masks, clays from my country and possibly some local Dutch earth. You are welcome to have a bite or taste them by licking. I am sharing with you my practice, and it's up to you, if you take it or not. Maybe the cup already broke, while you were drinking tea, as all these cups are at the verge of breaking. This project is living on a breaking point, which is negotiating between different soils, between different social/political histories and memories."
Disclaimer: Eating earth is not recommended by food authorities and is at your own risk.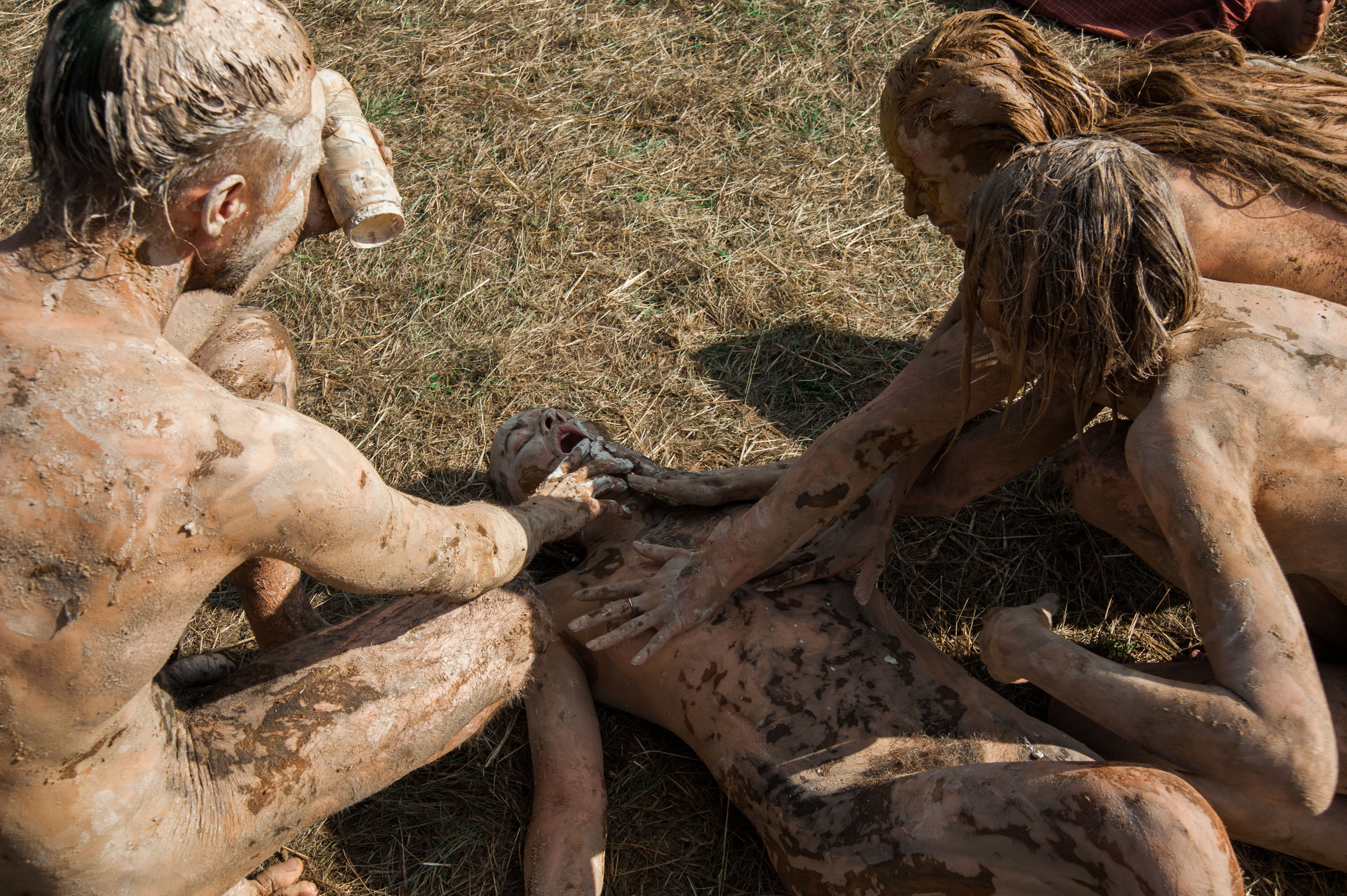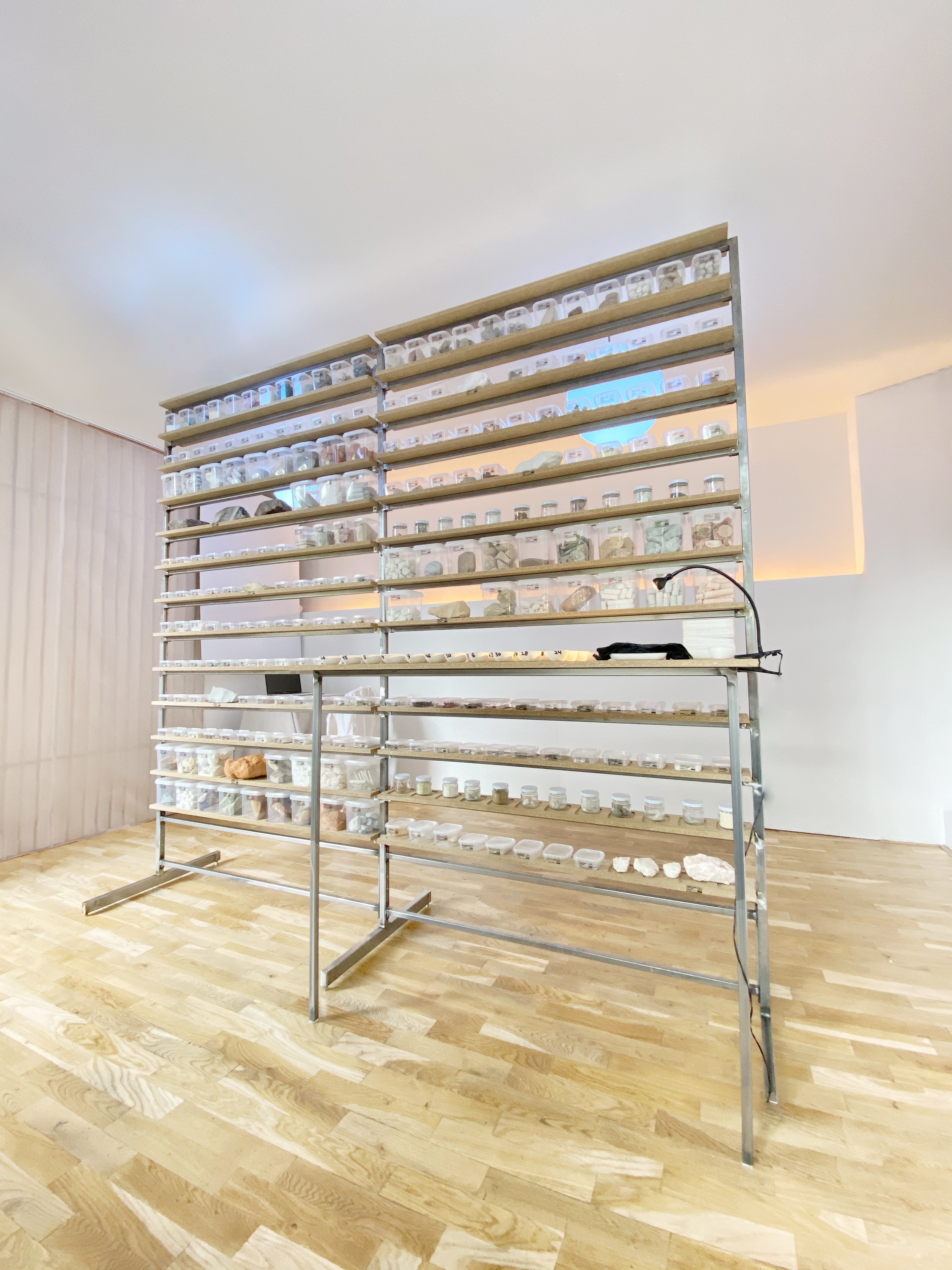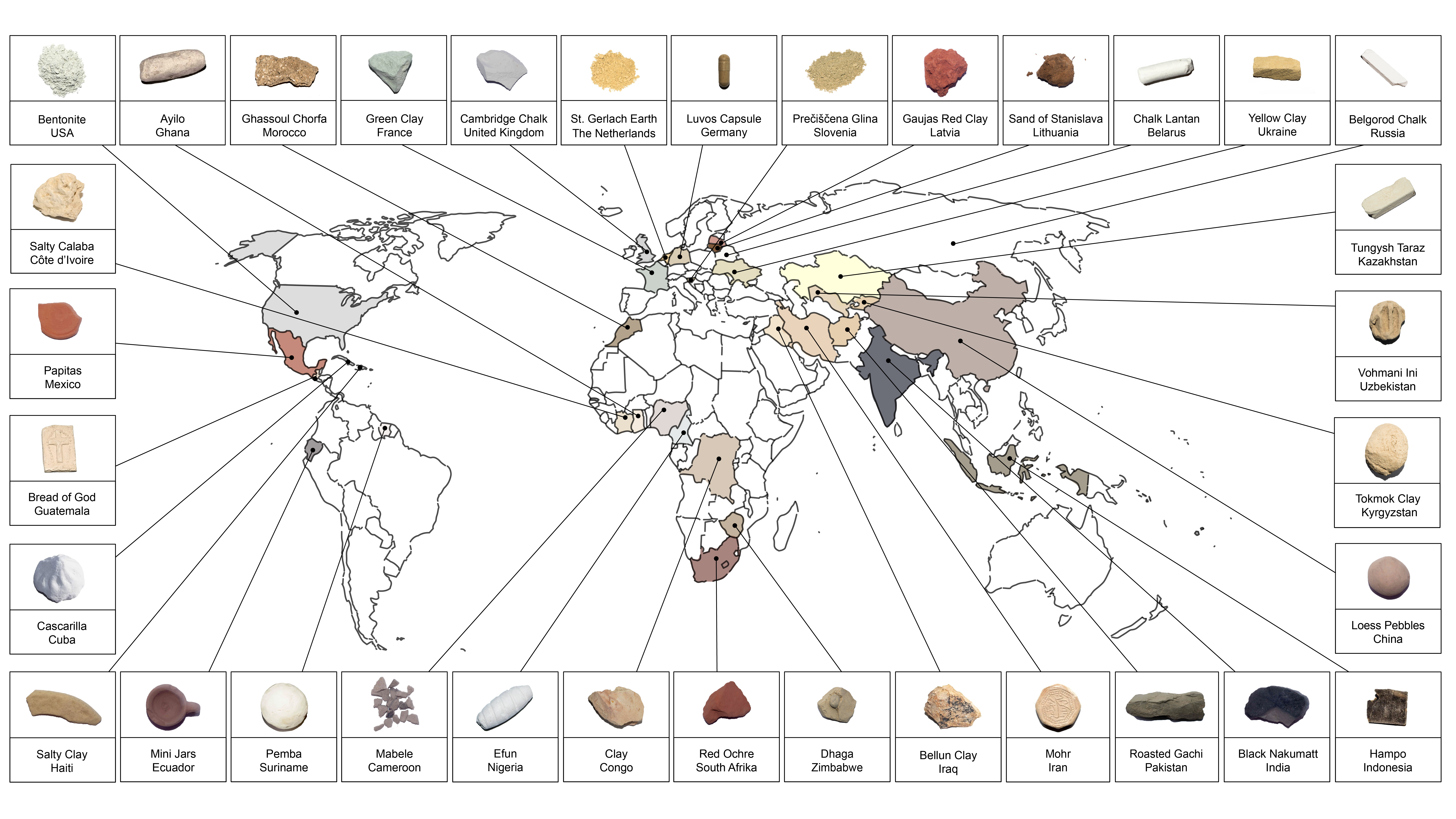 Photography credit
First photo: Museum of Edible Earth | Photo by masharu studio
Second photo: Intercoursing Clay | Collaborative performance of masharu, Kristi Oleshko, Anton Tarasenko and Ekaterina Sleptsova during Potok Festival (RU) | Photo by Evgenija Beljakova
Third photo: Museum of Edible Earth X diptych in love | Product design by Basse Stittgen (NL/DE). Build-up assistance by Asia Semeniuk (PL/NL). Curated by Ola Lanko (NL/UA) in diptych (NL) | Photo by Alexandra Hunts
Fourth photo: Map of the Museum of Edible Earth | Photo by masharu studio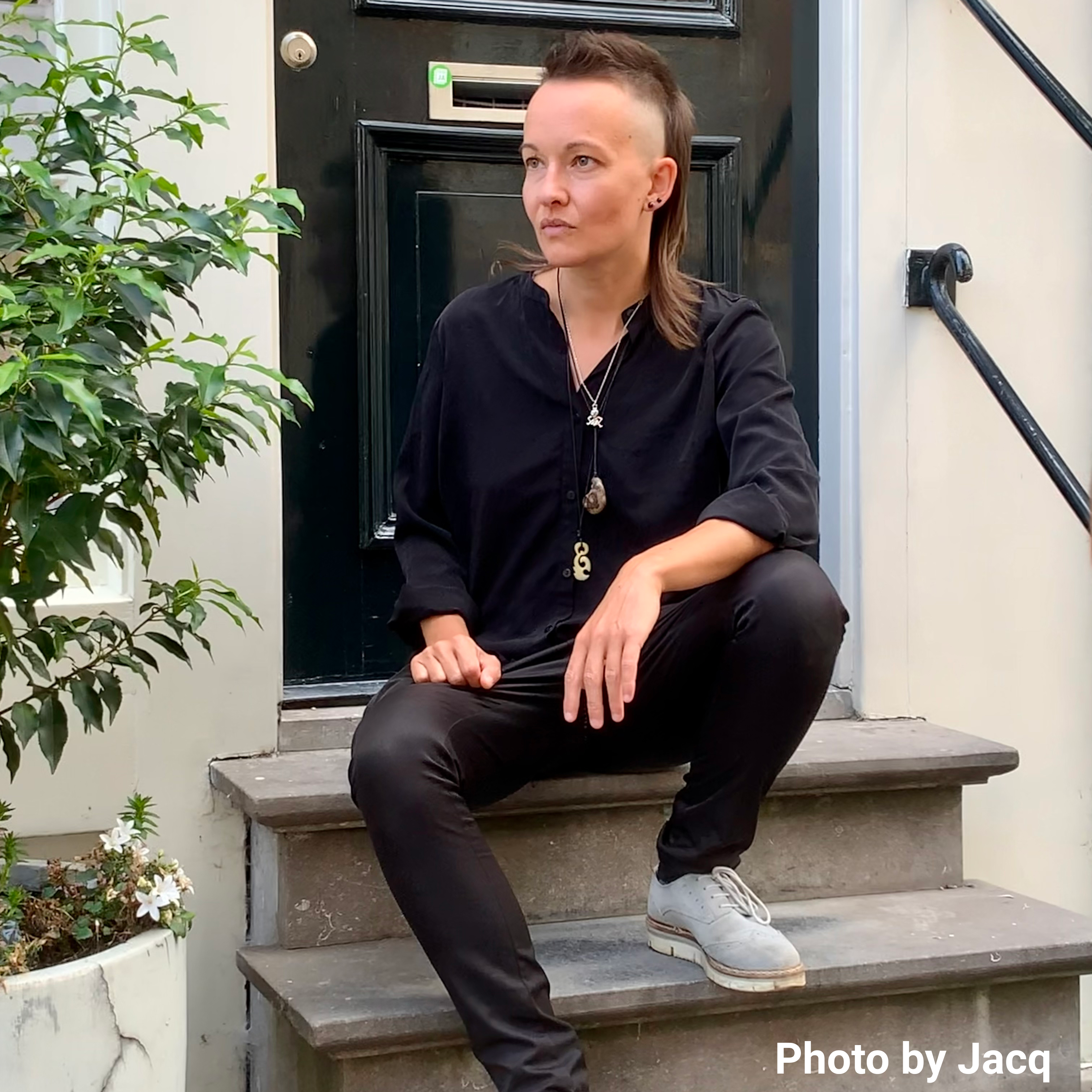 masharu studio
Amsterdam, the Netherlands
masharu is a creative with a background in science. masharu's projects combine scientific research with a personal approach and cultural practices. In 2011 they obtained a PhD in Mathematics and graduated with honours from the Photo Academy Amsterdam. In 2013-2014 they participated in the art-in-residency programme at Rijksakademie van Beeldende Kunst in Amsterdam. In 2018 masharu was an artist fellow at the Netherlands Institute for Advanced Study in the Humanities and Social Sciences (NIAS-KNAW). masharu's artistic as well as scientific work has been exhibited, screened and published in various countries, including Armenia, Australia, Austria, Belgium, China, Croatia, Cuba, Czech Republic, Denmark, France, Germany, Guatemala, Hungary, Indonesia, Italy, Kazakhstan, Kyrgyzstan, the Netherlands, Nigeria, Portugal, Russia, South Korea, Spain, Suriname, Sweden, Ukraine, UK, USA and Zimbabwe, in such venues and events as Art Electronica Center in Linz, Modern Art Museum in Yerevan, Russian Impressionism Museum in Saint Petersburg, African Artists' Foundation in Lagos, Spanish Cultural Centre in Guatemala City, World Design Event in Eindhoven, ReadyTex Gallery in Paramaribo, 4th Jakarta Contemporary Ceramics Biennale in Jakarta, European Ceramic Workcentre in Oisterwijk, Sustainica in Dusseldorf, 6th Moscow Biennale of Contemporary Arts in Moscow and Museo Maritimo in Bilbao.
Team's name: masharu studio / Founder: masharu / Projectmanagement: SasaHara, Irene Kobalchuk  / Photographic and video production: masharu, Ielyj Ivgi, Alexandra Hunts, Miša Skalskis, Anna Zamanipoor, Anton Melles, Dave Soerjaman, Ielyj Ivgi, Jester van Schuylenburch, Koen de Boer, Mila Blok, Rodney Tang, Jhalisa Rens and Luuk Van Veen / Graphic design: Olga Ganzha, Anna Zamanipoor, Dinesh Basnet, Luuk van Veen, Jhalisa Rens, Rodney Tang and Dave Soerjaman  / Webdesign: Raphaël Pia, Andrew Revinsky and William Ageneau / Product design: Basse Stittgen  / Building assistance: Asia Semeniuk

The Museum of Edible Earth is supported by the Creative Industries Fund NL, Stichting Niemeijer Fonds, Pauwhof fonds and Prins Bernhard Cultuurfonds Tijl Fonds. The work of masharu is supported by the Mondriaan Fund.